New Features and Enhancements to GibbsCAM Simplifies Programming and Improves 5-Axis Milling in Specialized Applications
With the planned release of GibbsCAM 2013, Gibbs and Associates continues the tradition of incorporating powerful features with an easy-to-use interface. Some of the new features and enhancements will be shown at EASTEC May 14-16.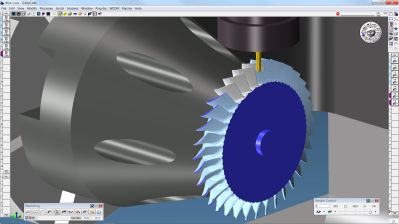 "We look forward to demonstrating the many new enhancements that will provide all GibbsCAM users incremental performance to the easy-to-use productivity tools they already enjoy," said Bill Gibbs, president and founder of Gibbs and Associates. "Also, we are anxious to demonstrate some exciting new features designed to simplify programming and improve 5-axis milling in specialized applications. EASTEC should prove to be a great venue for partners and customers to preview these GibbsCAM 2013 features and enhancements."
Some of the new options, features, and enhancements include:
Two 5-Axis Multi-Blade Options -- These simplify programming and machining bladed turbomachinery components such as impellers, blisks and blings. Specialized functions for roughing, blade finishing and hub finishing, with automatic tilting and linking, and full control of leading and trailing edges speed up programming, generate better surface finishes and reduce machining time.
5-Axis Porting -- This option will provide specialized functions to make programming faster and easier, and generate more efficient and smoother toolpaths for machining hollow parts that have significantly different shapes or sizes at each open end, or that have significant curvature from one end to the other, typical of engine exhaust ports, combustion chambers, manifolds and throttle bodies.
Improved Support for Swiss-style Machining -- Rendering for toolpath verification and simulation will now include guide bushings and provide more accurate visualization of Swiss-style parts.
Mill Feature -- Users will be able to assign certain machining attributes directly to part features, allowing them to save and reuse knowledge-based-machining information for families of parts or similar-part machining. Handling new parts and part changes will be quick and easy, with a single mouse click.
Surface Flow -- Improved machining strategies for solids machining include an improved algorithm to handle most nonplanar fillets and other blended faces for better surface finish and smoother, more efficient toolpath.
Profiler Modes -- The Profiler, frequently used to inspect part models, find hidden features, and develop cross sections for turning or milling, will add slicing of spun bodies, silhouettes, and cylinders to its slicing function.
Drilling and Thread Milling Patterns -- Users will be able to place Drilling and Thread Milling in patterns. Pre-mill drilling of patterned milling operations will automatically recognize and execute Drilling and Thread Milling patterns.
Lathe Threading & Thread Whirling -- Users will be able to define lathe threads from any valid shape, including shapes that contain arcs or splines. Thread Whirling will accept arcs and splines as input, and generate threaded arcs as output.
Lathe Plunge Roughing -- Improvements to Lathe Plunge Roughing will result in toolpaths that remove more material, in less time, with reduced tool wear.

Want more information? Click below.
Copyright © 2019 by Nelson Publishing, Inc. All rights reserved. Reproduction Prohibited.
View our terms of use and
privacy policy