West Coast Manufacturing Event Changes Schedule -- Returning Earlier Than Planned
WESTEC will return to the Los Angeles Convention Center -- October 15-17, 2013. Produced by the Society of Manufacturing Engineers (SME), WESTEC was previously scheduled as a spring 2014 event, but increased industry demand and participant feedback convinced the organizers to shift the date forward.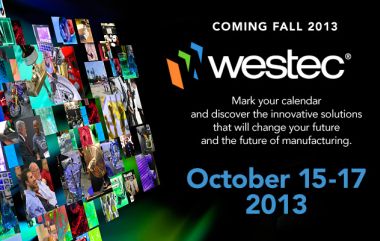 For nearly 50 years, WESTEC has built a reputation as the West Coast's premier technological showcase for the manufacturing industry. Generations of manufacturers have used the event as a forum to find cutting-edge equipment, explore advanced technologies, and learn innovative new production methods to help grow their businesses. Many of the industry's top equipment manufacturers have unveiled technological breakthroughs at WESTEC -- from software, cutting tools, 3D printers to multi-tasking machines.
The West Coast is an important part of the U.S manufacturing sector. Los Angeles County alone is the leading hub in the U.S, producing more than 20 percent of global manufactured products and is home to more than 380,000 people involved in the manufacturing industry.
"The American manufacturing sector is showing renewed strength and economic vitality. We wanted to capitalize on this progress and felt it necessary to move our event up from the spring to the fall," said Christine Longroy, WESTEC event manager. "Our exhibitors and attendees agreed that the fall would be an ideal time to explore the changing manufacturing technologies."
WESTEC 2013 will build upon the overall success of the last exhibition, held March 2012, as a hub of industry innovation and business development. WESTEC 2012 saw increased attendees and exhibitors from years past, with more than 13,000 people and 400 exhibiting companies participating. Of these participants more than 35 percent were first-time attendees.
Want more information? Click below.
Copyright © 2019 by Nelson Publishing, Inc. All rights reserved. Reproduction Prohibited.
View our terms of use and
privacy policy