Third Generation of HMC's Features Simultaneous 5-Axis Machining with Pallet Sizes Up to 1,000 x 1,250mm
Some 40 years after the first Hüller Hille NC nb-h 70 machining center and the legendary nb-h 90 to nb-h 260 series which resulted from it, a complete series of horizontal machining centers with pallet sizes of 500 x 500 mm to 1,000 x 1,250 mm are now available from MAG. The total of eight NBH machine types with their numerous customized options are now on the cutting edge of technology in terms of design, performance and control features.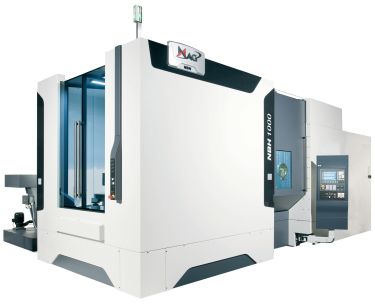 Nearly 40 years have passed between the nb-h 70 and the new NBH 1000. Punched tape was still used as a data carrier for the programs back then, while today the Siemens SINUMERIK 840D sl, a modern, powerful CNC control system using state-of-the-art technology, is used.
The modern and innovative production methods in the MAG plant in Mosbach were crucial for building the new series on two platforms. From the NBH 500 up to and including the NBH 630, the centers are mounted quickly and inexpensively in a flowline. Due to their size alone, the big NBH models are built using materials arranged to be delivered "just-in-time" in a sequential box assembly. The basic design of all NBH models, however, is always in line with the jig boring machine principle. That means that the workpiece moves in Z-axis direction as is the case in precision boring machines.
Longterm Precision Due to Cast Iron Machine Bed and Robust Guideway System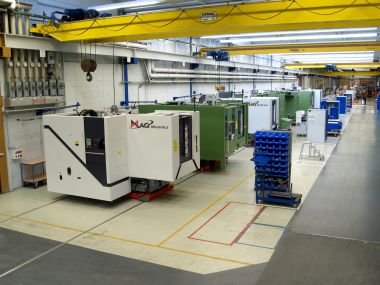 Up to size model NBH 630, the NBH centers are quickly and inexpensively installed in a flowline assembly sequence.
The basis for reliable machining processes is the heavily ribbed, one-piece machine bed in cast iron design with high damping properties. The robust guideway system is a further factor, adding to the proverbial MAG Hüller Hille machining quality. All linear axes are equipped with generously spaced guideways. These preloaded, backlash-free linear guiding units, with wide guideway spacing stocked with cylindrical rollers, ensure high rigidity and load capacity. They provide dynamic traveling speeds and stick-slip-free position movements with high positioning and circular accuracy. The long service life of these components has a positive impact when taking into account the NBH life cycle costs which are increasingly significant when it comes to making investment decisions. A distance-coded, direct distance measurement system is integrated into the rail guide. However, absolute glass scales are available as an option for all NBH sizes. Special emphasis was put on fast and reliable chip removal. Four robust spiral conveyors are used on the NBH 800/NBH 1000 so that large machining volumes can be easily processed. To optimize the customer's setup situation, chips can be removed towards either the front or the back.
Intelligent Drives
Today, modern high-performance machine tools are equipped with digital axis drives. The complete position control with subordinate support and diagnostic functions are transferred from the CNC to the drive. In the NBH series, maintenance-free, brushless, digitally controlled three-phase servo motors in completely closed design are used. In general, power is transmitted directly onto the precision ball screw spindles with star couplers. For better damping and a reduced noise level, these star couplers are made of special plastic.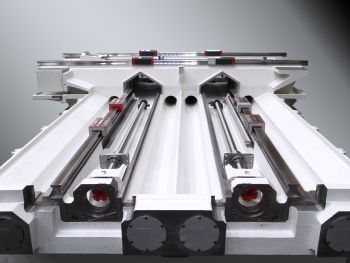 Extra large guide distances (for the NBH 1000, 1000 mm in the X-axis and 1200 mm in Z-axis) are crucial for the high stability of the NBH centers.
When it comes to acceleration values, the respective NBH centers are always the best. With a special option package and corresponding construction of the ball screw drive, accelerations of up to 10 m/s2 can be realized.
Better Dynamics Due to Rotary Tables with Torque Drive
Advanced new paths are also being forged with rotary tables. Gone are the days of the Hirth and rotary tables with worm drives. The future belongs to rotary tables with very high acceleration and dynamics run directly with a torque drive. An absolute encoder ensures precise positioning and better repeatability. When production starts or after an emergency stop, time-consuming referencing is not necessary since the exact position is always known. The serviceability is also a big advantage of this new table drive. In contrast to conventional worm or bevel gear drives, oil lubrication can be omitted. The direct drive is absolutely free of backlash, which means there is no wear. Maintenance expenditures for oil lubrication and readjustment due to wear become unnecessary. The use of identical parts throughout the entire series also makes it possible to keep the supply of spare parts manageable.
The number of torque tables already employed at MAG has proven that, because of the reduced positioning times and high clamping forces, advantages compared to conventional drives exist.
Two index bolts on the table pre-position the pallet after changing. Four conical clamping cones ensure precise positioning and high repeatability when clamping the pallet. The clamping cones are blown out and rinsed after the pallet has been lifted.
Fast 180° Pallet Changer
Up to pallet size 1000 x 1000 mm, fast 180° swivel pallet changers are generally used. This results in a significant reduction in pallet changing times even with the larger machines. For example, a direct comparison of a NBH 290 from the predecessor series with a linear pallet changer and the NBH 800 shows that the pallet changing time has almost been halved from approx. 39 to approx. 20 seconds.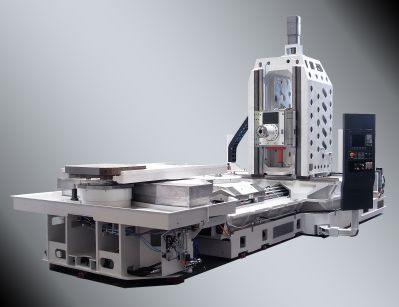 Assembly of the NBH 1000 machines in sequential box assembly.
The pallet setup station can be rotated smoothly by 360°. This also makes elaborate clamping devices fully accessible. A pneumatic setup station lock every 90° facilitates setup work.
The setup station and the table can be equipped with a 2-way or 6-way hydraulic clamping system for automatically actuating the clamping devices. The feed lines can be laid either pneumatically or hydraulically, depending on the requirements.
Simultaneous 5-Axis Machining
For the machining of complex workpieces in one setting, multi-sided machining, drilling or surface machining in different angles as well as free-form surfaces in tool and mold making and in the aerospace industry, a swivel head is available starting from size NBH 630. The swivel axis - from the range of 0° (= horizontal spindle position) to 225° (180° = vertical spindle position) - and the NC rotary table can be driven without backlash by a powerful gear. This design provides maximum torque for positioning and simultaneous operation. A further important factor is 5-axis precision. For this purpose, a thermally stable machine is necessary. Among others, cooled servo motors, ball assemblies and gears as well as coolant temperature control are used.
Want more information? Click below.