New Air Amplifier Helps Increase Mold Production Up to 300%
JetSlinger™, the newest add-on to industry innovator Hunter Foundry Machinery Corporation's latest products, helps ensure improved pattern definition, as well as uniformity of mold hardness and surface integrity. The product, which shipped earlier this year, was on display at the recent Cast Expo 2013 in St. Louis. JetSlinger is an available option for the new Hunter HLM linear-motion machine, as well as a retrofit option for the company's established XL automated matchplate molding machines.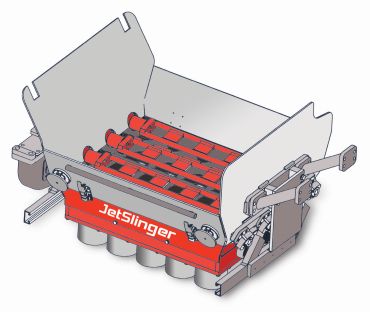 The JetSlinger is an air amplification apparatus based on the Venturi principle that accelerates sand into the cope and drag flasks on these Hunter machines. It creates a powerful vacuum and jet exhaust that draws sand mixtures through an array of nozzle assemblies built into a manifold mounted directly below Fillaerator blades, then slings them into a flask. It was invented by company president Bill Hunter. The JetSlinger design holds U.S. Patent Number US7819168B2, one of nearly 150 domestic and international patents granted to the company since its founding in 1964.
Key features and benefits of JetSlinger include:
Impact-assisted flask filling, adjustable for cope and drag
Venturi-action air amplification for sand mixture dispersion
Perpendicular flask filling, superior to side blow fill; no shadow effect
Improved mold production up to 300% on select jobs
Better pattern definition, uniformity of mold hardness and surface integrity
"In contrast to the conventional blow fill machines, no shroud, seals or vented flask assemblies, nor is the usual attendant maintenance required," according to company president Bill Hunter. "Furthermore, JetSlinger allows foundries far greater flexibility, as well as the access needed to produce various castings with the use of chaplets, ram-up cores and exothermic risers," he adds.
Want more information? Click below.
Copyright © 2019 by Nelson Publishing, Inc. All rights reserved. Reproduction Prohibited.
View our terms of use and
privacy policy