Patients Now Benefit from Customized, 3D Printed Titanium Implants Used in Brain and Facial Surgeries
Craniomaxillofacial surgery is a procedure for correcting brain injuries and facial deformities that can negatively impact someone's senses. Individual implant solutions -- ranging from plates, meshes, screws, pins, and distractors -- are often key to the treatment. Concept Laser's M2 cusing machine now allows medical companies to create better, more customized implants through additive manufacturing.
A surgeon today essentially decides between three types of craniomaxillofacial implants: plastic implants, deep-drawn metal sheets, or titanium implants -- mesh, solid, and now, additively manufactured.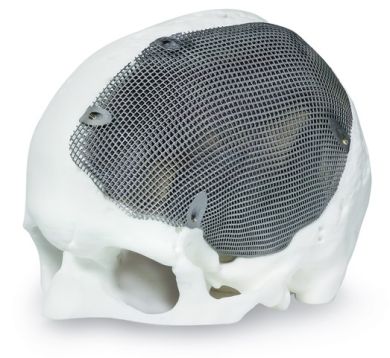 A craniomaxillofacial skull implant 3D printed from titanium.
Due to its excellent biocompatibility and its high resistance to corrosion, titanium has gained immense popularity and has successfully established itself as the material of choice in the medical field. It allows the bone to grow and is therefore the perfect material for implants in combination with lattice structures made by additive manufacturing. Depending on the application, titanium implants are likewise developed individually and manufactured conventionally as a mesh or as a high-strength solid reconstruction version.
There was the obvious thought of why manufacture by conventional means if an additive approach was also possible?
Frank Reinauer, Head of Innovation and Production of Biomaterials at Karl Leibinger Medizintechnik: "We have of course long had our eye on the additive approach. But we also had very precise notions of what the machine needed to be capable of. After the first decade of 3D metal printing, the time seemed to have come to get involved."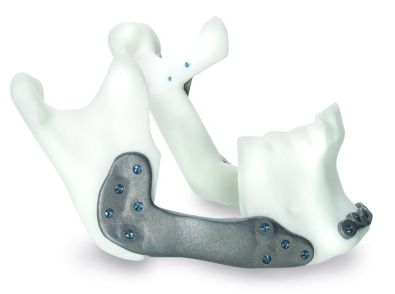 High precision fit: additively manufactured, craniomaxillofacial, patient-individual implant.
However, initially there was the hurdle of investing in AM (additive manufacturing) to overcome. Reinauer added, "We purchased our first AM machine from Concept Laser in 2013. This decision, balancing the desire for innovation and the assessment of risk, proved to be a fruitful one: The complex part requirements for medical implants meant that the AM machine very quickly paid for itself. Given the pressure of time for an operating room, the amount of time saved with tool-free manufacturing should also not be underestimated. Above all, the strategic decision was an important driver because an additively manufactured titanium implant for an individual patient is a giant leap forward for clinical practice."
Titanium as the Benchmark: Implants Made to Measure
After they started using 3D metal printing, it very quickly became apparent that laser melting was the method of choice for titanium osteosynthesis. Now it is even possible to produce large-scale reconstructions with complex geometries.
In addition, the geometric freedom can also cater for specific aesthetic requirements. For the surgeon, it is not just about restoring functionality, but also always about the aesthetic look. The parts have high strength, and the material is biocompatible. Even those with allergies can receive titanium extremely well.
"Additive manufacturing with metal offers the opportunity to manufacture specific partial surface roughnesses of the implant so that it can fuse with the bone very quickly at the edges of the implant. "But there is another very important aspect in favor of additively manufactured titanium implants: the patient-specific geometry and precision fit. Ultimately this means a high level of functionality," said Reinauer.
Manufacture of Laser-Melted Individual Implants
One can refer to a digital process chain at Karl Leibinger. The parts are built up on the M2 cusing very promptly, and even large-scale parts can be accommodated in a build envelope of 250 x 250 x 280 mm³ (x, y, z). The M2 cusing is designed in line with ATEX guidelines and thus makes it possible to process reactive materials like titanium or titanium alloys safely.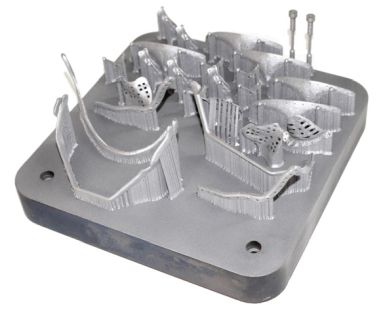 Build plate for patient-individual implants, additively manufactured on an M2 cusing machine from Concept Laser.
"When it comes to processing reactive materials, Concept Laser has undoubtedly set the benchmark for safety and with a contamination-free concept for manufacturing additive parts." Added Reinauer.
Like all machine solutions from Concept Laser, for reasons including user-friendliness and safety, the M2 cusing also features physical separation of the process chamber and handling area. It is robust and suitable for 3-shift operation. After the parts have been built up, the parts are heat-treated to reduce tension, and then sterilized and packaged in a Class 7 cleanroom.
Demand is Growing
The use of these implants is expanding. There are currently more than 20 engineers employed worldwide to handle assignments for clinics.
Karl Leibinger Medizintechnik can typically supply additively manufactured implants for an operation within a week. The specific geometry and precision fit are crucial in the operation because they shorten the operating time, reduce the risk of the operation, and the surgeon can concentrate on the actual operation itself.
Benefits of Additively Manufactured, Patient-Individual Implants Made of Titanium
Freedom of geometry and a precision fit affect functionality and aesthetics.
Large-scale, complex structures are possible.
Definable edge and surface texture ensure good bone ingrowth.
Prompt, toolless manufacturing and rapid process chain
High reproducibility
Titanium is biocompatible and is noted for its high strength.
Titanium is elastic, corrosion-resistant and temperature-resistant.
Safe and quick operations
Quicker patient recovery
Ultimately relieves the strain on the healthcare system
Want more information? Click below.