Find Out How Collaborative Robots Can Help Job Shops -- Right Now
Attendees at UBM's ATX East this week (June 13-15) in New York City are being greeted by three collaborative robots from Universal Robots at the expo entrance. Moving through pre-programmed cycles, the cobot arms equipped with monitors feature videos of a wide variety of industrial tasks now handled by Universal Robots -- from CNC machine tending to polishing, wire cutting, injection molding and pick & place applications. As in many of their real life installations, the cobots are placed in a high-traffic area where they are operating with no safety guarding alongside people.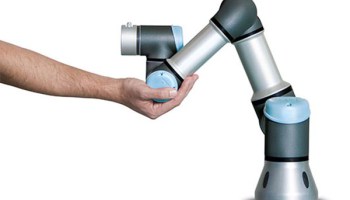 On the expo floor, attendees are interacting with the UR cobots. A UR5 robot arm is showcased in a new demo featuring collision avoidance and real-time adaptive pick & place with UR partner Energid, a developer of software for robots and machine vision. The UR5 is picking "widgets" out of a feeder that moves around and is dynamically tracked by the vision-guided cobot. Using a wand, people are interacting with the collaborative robot and the robot is avoiding the wand while attempting to reach the widget.
"The ability for the robot to "dodge" the wand is an example of what we believe will be the next generation of collaborative robots," says CEO of Energid, Neil Tardella. "Soon, robots will be able to avoid collisions with people altogether rather than just stopping once a collision occurs. We believe that there is a large market for robots that can perform tasks in a semi-structured environment, where the requirement for precise positioning of fixtures and parts is relaxed, making setup and programming of the UR cobots even easier."
Robotic Vision Technologies is demonstrating their new single-camera 3D guidance application for UR robots. The demonstration shows a UR5 picking randomly placed parts off a conveyor and precisely placing them in a moveable tray, in both 3D and 2.5D. "The demo highlights the flexibility that 3D vision brings to imprecise hardware or part presentation in automated assembly," says Paul Weidinger, VP of Engineering at Robotic Vision Technologies. "With 3D vision, the UR can now be utilized in more applications, while keeping integration costs low."
Through these new application demos, Universal Robots is addressing how to get the best ROI out of collaborative robots and how this emerging class of robots enables automation in even small and mid-sized businesses.
Want more information? Click below.
Copyright © 2018 by Nelson Publishing, Inc. All rights reserved. Reproduction Prohibited.
View our terms of use and
privacy policy