New Collaborative Robot System Gives Small Shops Easy, Low-Cost Welding in a "Snap"
Small job shops struggling with the budget, programming and space requirements of traditional welding robots now have an alternative solution: The new SnapWeld Collaborative Robot Welding package developed by ARC Specialties Inc. and Universal Robots is a cobot-assisted, interactive welding system that can be deployed easily and flexibly in existing, manual welding booths, eliminating the need for costly new robotic cells.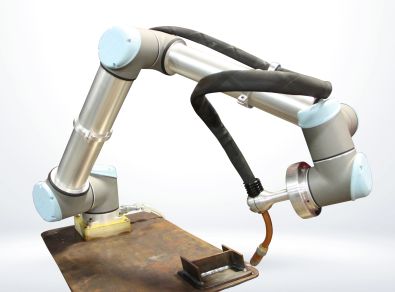 "We are getting a lot of requests for integrating Universal Robots in welding booths, so we saw this as a unique opportunity to develop an integrated low-cost system for gas metal arc welding (GMAW) applications that no one else in the market is currently offering," says John Martin, Vice President of ARC Specialties, a Certified Systems Integrator of UR robots.
The SnapWeld is debuting this week at FABTECH. Attendees can simply grab the UR10 robot arm and perform stitch welding by "teaching" the robot the start and stop points, as well as the number and length of the stitch weld. The SnapWeld will move along the start and stop path and weld only during specified stitch areas, reducing robotic programming from hours to minutes.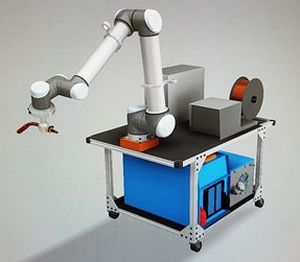 The welding system integrated with the UR robot is comprised of a Profax wire feeder and water-cooled torch enabling welds up to 600 amps, with torch bracket, all cables and hose packages included. The simplified programming is enabled by direct software integration into Universal Robots' own programming environment through the Universal Robots+ platform that will allow users to program advanced settings directly on the teach pendant that comes with the UR robot. Settings include features such as wire feed speed and burn back time, gas flow time, and crater fill time with instant feedback on welding volts and amps.
Area Sales Manager of Universal Robots, Manuel Sordo, is excited to include ARC Specialties' welding package on the UR+ platform which is an online showroom featuring the rapidly expanding ecosystem of plug & play products for UR robots: "This UR+ welding package is the perfect solution for low volume/high mix fabrication shops, allowing operators to manage robot programs and welding parameters on the fly."
Want more information? Click below.
Copyright © 2018 by Nelson Publishing, Inc. All rights reserved. Reproduction Prohibited.
View our terms of use and
privacy policy