German Mold and Die Shop Credits Portal Milling Machines for Meeting Their Automotive Customers' Demands
To stay competitive, mold and die makers must be flexible in responding to customer requests, which means being able to machine a wide range of materials with high precision and handle parts of many different sizes. To meet these challenges, the Bavarian company Schröter Modell- und Formenbau GmbH recently added two portal milling machines to maximize uptimes and offer its customers individually tailored solutions.
Mold and die makers must regularly machine complex components made of different materials while ensuring high precision and excellent surface quality -- all on a tight schedule. Schröter Modell- und Formenbau GmbH, based in Oberpframmen, Bavaria, is a good example.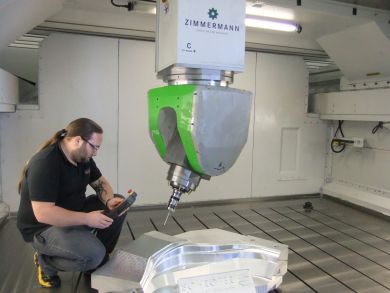 Schröter Modell- und Formenbau specializes in high-precision machining of aluminum components.
"About 75 percent of our customers come from the automotive industry," says managing director Maximilian Lörzel. "They include names like BMW, Audi, Volkswagen, Mercedes and Porsche." In this industry, short delivery deadlines and pressure on prices are the rule. To hold its own, a company must have well-trained employees, plus machinery with low downtimes and high-quality results.
The company, which specializes in the production of models, molds and dies, has been in business since 1963. It was founded in Munich by Bruno Schröter, an uncle of director Maximilian Lörzel. "In the early 1990's, I took over the company, and we've grown steadily since that time," says Lörzel. "Today we manufacture prototype components and prototype molds, but we don't engage in volume production."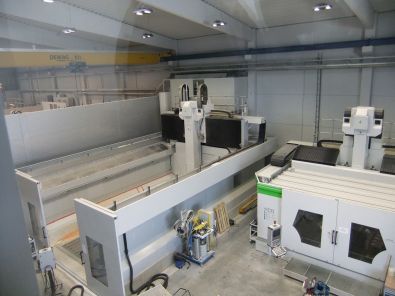 The model maker and mold maker has two new machines from Zimmermann -- an FZ 37 (left) and an FZ 33 compact.
The company also makes molding patterns, design models and sheet metal forming dies made of aluminum, plastic and zamak. Its customers include companies in the aircraft industry and manufacturers of household appliances like Bosch and Siemens. Schröter also machines carbon fiber and steel. The manufacturing processes have to meet high quality requirements. Since the company cannot offer every kind of process, it also works with nearby aluminum foundries and paint shops. Maximilian Lörzel now has a team of 35 employees who were trained in-house.
From CAD Data to Reality
The company cooperates closely with industrial designers. "The launch of a new product, vehicle model or product variant is preceded by a long form-finding process," explains the managing director. "First one has to make vehicle models, because this is the only way to get an accurate impression of the proportions and shapes." The models, usually made of clay, plastic or paste materials, are created at a scale of 1:1. "We machine them from a wide variety of materials -- under strict secrecy," says Lörzel. The milling machines have to satisfy exacting requirements. A large working area is especially important.
Machinery has Proved Itself Over the Years
"We have machines of various sizes so that we can take on many different kinds of jobs," says Lörzel. But all of them are made by F. Zimmermann GmbH, based in Neuhausen near Stuttgart, Germany. The two companies have been partners for many years.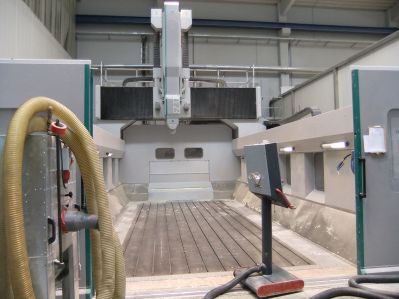 The FZ 37 portal milling machine can machine components made of soft or hard materials from five sides. Its large working area gives Schröter a high degree of flexibility in meeting order-specific requirements.
"Since the start, we have relied almost exclusively on machines from this manufacturer," Lörzel explains. "What we especially appreciate is their sturdiness, high speed and flexibility. They are precise and reliable, and employees do not have to rework the components after removing them. That in itself saves a lot of time and money."
On a walk through the factory the director calls attention to his impressive machine pool. "We have two FZ 30 five-axis high-speed portal milling machines in operation and one FZ37." The company has now added another FZ 37.
Adding to the Machine Pool
"The orders we receive are becoming more and more challenging, especially those from the automotive industry," says Lörzel. In order to have greater flexibility, the maker of models, molds and dies decided to purchase two additional machines from Zimmermann. For this purpose, it expanded its factory space. "We're often working at full capacity, and more and more often we've almost had to turn down an order."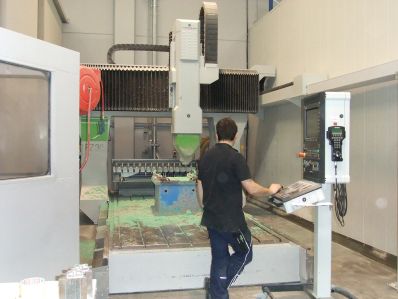 The FZ 30 five-axis high-speed portal milling machine with travel distances of 6,000 x 3,360 x 1,500 mm
The second FZ 37 portal milling machine has a working space of 8,000 mm on the X axis, 3,500 mm on the Y axis and 2,500 mm on the Z axis. Another reason for this purchase is its improved technology. The advance rate and acceleration are almost twice that of the older machines.
Reliable, Precise Machining
Right next to the FZ37 there is a new FZ33 compact. "This five-axis portal milling machine has a large working area and very small external dimensions, with impressive travel distances of 2,500 mm on the X axis, 3,000 mm on the Y axis and 1,250 mm on the Z axis," says Andreas Podiebrad, managing director of F. Zimmermann GmbH.
At the same time, it is especially powerful and sturdy. "We designed it for fast machining of aluminum and composite components on 3 and 5 axes," Podiebrad adds. "Workpieces of steel and cast iron can equally be finished with excellent dynamic performance." For Maximilian Lörzel the important selection criteria were short throughput times, minimum downtimes and excellent precision to make reworking of components unnecessary. The machine is also equipped with a cooling and lubrication system.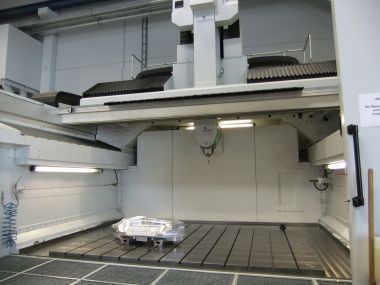 The FZ33 compact has an inherently rigid cast iron base with integrated table. No machine foundation is needed.
Milling of aluminum requires large amounts of cutting fluid, which when vaporized can pollute the air in the plant. For this reason, the FZ33 comes with a powerful extraction system for drawing off the vapors.
The FZ33 compact achieves advance rates of up to 60 m/min. and an axis acceleration of up to 5 m/s2. Lörzel is impressed: "It can mill excellent surfaces very efficiently."
"When we developed this machine, we put a special emphasis on ease of operation and servicing," adds Podiebrad. The FZ 33 compact has high-quality components, ensuring a long service life. The user therefore benefits from low life-cycle costs.
Thanks to standardized assemblies, a modular machine design and stocking of assembly parts, Zimmermann can offer the FZ33 compact at an attractive price and ensure fast delivery. Owing to its high value for the user, the machine is amortized within a very short time.
Each of the machines has a tool-changing station. "This feature is especially important to us because we can let them run unattended overnight or on weekends," says Lörzel. A fully automatic laser tool measuring system and a radio sensor complement the equipment in each machine. Radio sensors integrated into the portal milling machines allow quick alignment of the components. After machining, measurements can also be carried out directly without removing the components. The chip conveyers can be closed off for dry machining. Changing between wet and dry machining can therefore be very fast.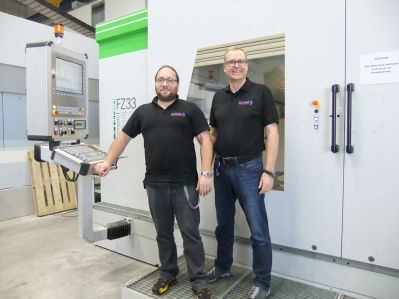 Master model maker Martin Geisler and managing director Maximilian Lörzel in front of the new FZ 33 compact.
The new machines have VH 20 milling heads from Zimmermann. The drive for the A axis is provided by electronically braced, zero-backlash torque double motors, and for the C-axis there is a direct torque drive. Together with a high-resolution measuring system, this permits fast and highly precise positioning, since the milling head combines high torques with high rotation speeds in the A and C axes.
No Foundation Necessary
An important reason for choosing the FZ33 compact was its inherently rigid cast iron base with integrated table. Mounted on this are side walls filled with special concrete, and a structurally rigid portal. The result is a highly capable piece of equipment. "The machine bed consists of about 15 tons of cast iron," says Podiebrad. The FZ33 can be set up on a conventional factory floor; no machine foundation is needed.
Want more information? Click below.