Two New Mobile Robots Ideal to "Fetch" Your Parts
Fetch Robotics has expanded its VirtualConveyor family of Autonomous Mobile Robots (AMRs) with the addition of CartConnect and RollerTop robots for the most flexible and broad range of workflows for material handling and transport.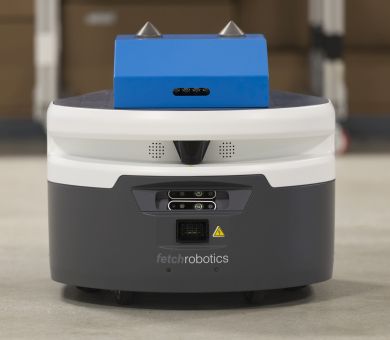 Through the FetchCore Cloud Robotics Platform, mixed fleets of VirtualConveyor robots uniquely complement any factory optimization strategy for mixed inventory and workflow environments associated with the largest manufacturers in the world.
VirtualConveyor CartConnect solutions allow the new AMRs to pick up, transport and drop off delivery carts to any manufacturing location. CartConnect robots can then immediately move on to their next cart delivery task. This maximizes productivity gains out of Fetch Robotics AMR systems in workflows where transported material cannot be immediately loaded or unloaded.
VirtualConveyor RollerTop robots have seamlessly integrated active conveyor modules that, in combination with FetchCore's new precision alignment feature, allow RollerTop robots to dependably hand off or receive material from fixed conveyance. With the simple integration of FetchLink controllers with facility conveyors, customers can very quickly deploy AMR to conveyor workflows that require no human interaction.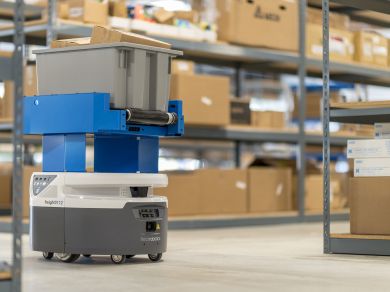 Both CartConnect and RollerTop solutions can be deployed in hours without any changes to existing facility or IT infrastructure.
"We are committed to helping our customers increase warehouse efficiency with the fastest time to automation," said Melonee Wise, CEO, Fetch Robotics. "RollerTop and CartConnect robots add flexibility and maximize existing conveyance across factory and warehouse workflows providing our customers with a breadth of options to meet their goals."
Both CartConnect and RollerTop are managed through FetchCore, the company's cloud robotics platform. FetchCore is unified cloud-based software for deploying, operating, monitoring, and optimizing Fetch Robotics' AMRs across warehouse and manufacturing environments. With a simple click and drag interface, FetchCore allows shop managers to create and schedule workflows in minutes, and to quickly create or modify mobile robot tasks and schedules to compliment any factory optimization strategy.
Want more information? Click below.