48 Barrels Can Be Pre-Loaded on 4-Spindle Gundrilling Machine
The DeHoff G548-D4 is a four spindle gundrilling machine designed for high-volume production of gun barrels. It features automated loading and unloading of the barrels to enable long periods of untended machine running. Up to 48 barrels can be pre-loaded into the magazine holder, and lift-and-carry automation is used to load the barrels in and out of the fixturing.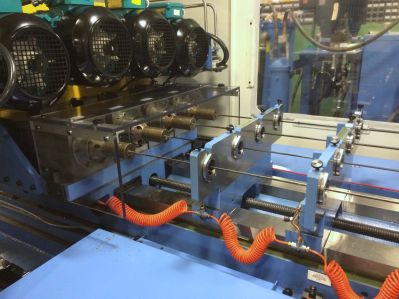 The G548-D4 has four gundrilling spindles with a barrel diameter range from 17 to 50 caliber, and a maximum barrel length of 27 inches (686 mm). The machine incorporates a cast iron drill head base with steel box ways, plus hand-scraped and fitted saddle, gibs, and straps (versus linear guide ways and milled surfaces). This results in superior vibration damping and extended gundrill tool life.
The G548-D4 is part of a turnkey package of gun barrel manufacturing equipment offered by DeHoff, including machines for gundrilling, pull-reaming, button rifling, cut rifling, as well as tooling, stress relieve ovens, and air gauging equipment. DeHoff machines are built-to-order by Kays Engineering in their Marshall, Missouri, USA facility.
Want more information? Click below.
Copyright © 2018 by Nelson Publishing, Inc. All rights reserved. Reproduction Prohibited.
View our terms of use and
privacy policy