New Licensing Agreement Brings Ultra High-Performance Toolthpath Technology to CAD/CAM Software
Celeritive Technologies, Inc., developers of VoluMill™ and VoluTurn™, has announced the signing of a licensing agreement with ZWCAD Software Co., Ltd., headquartered in Guangzhou, China.
Under the terms of the agreement, ZWSOFT will integrate Celeritive's ultra high-performance toolpath engine VoluMill™ into ZWSOFT's ZW3D CAD/CAM product, and offer VoluMill 2-3 axis applications as an option upgrade, which is expected to provide users with dramatically improved rough-milling productivity.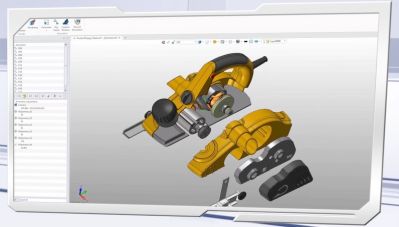 "We are very pleased to have this opportunity to partner with ZWSOFT," said Gregory M. Saisselin, Vice President Worldwide Sales & Marketing for Celeritive Technologies, Inc. "Over the past decade ZWSOFT has proven to be a significant player in the CAD/CAM market worldwide. I believe this new partnership will not only continue the expansion and adoption of Celeritive's proven science-based toolpath technologies, but it will also reinforce Celeritive's position in the CAM industry as the preferred system for easy-to-create, high-efficiency rough-milling and rough-turning machining strategies."
"The integration will make ZW3D CAM workflow perform better. It is expected to speed up to 70 percent on roughing efficiency after combination," says Joh Li, Director of ZW3D R&D Center in the USA and China.
VoluMill's patented technology generates toolpaths that produce a consistent material removal rate. Its smooth, flowing motion establishes and maintains ideal milling conditions in any part shape. Reduced forces on the spindle and cutting tool enable machining hardware to be safely utilized to its full capabilities. Uniform chip formation and excellent heat dissipation result in the previously unachievable combination of dramatically reduced cycle times and significantly extended cutting-tool life.
Powered by VoluMill, ZW3D can supply total control of 2-3 axis roughing strategies. Rough milling performance is significantly increased in all materials, delivering users dramatically improved productivity.
VoluMill for ZW3D is an excellent complement to ZW3D's 2-3 axis roughing strategies, allowing faster and simpler generation of ultra toolpaths. Moreover, the task-focused toolpaths can reduce cycle times in large, with manufacturing operations becoming more profitable, flexible, and competitive. In return, users can maximize return on their capital investment.
"We believe the partnership between ZW3D and VoluMill is a win-win strategy. The combination will provide enormous benefits to customers including reduced programming time, and greater tool life," says Colin Lin, Director of ZW3D Overseas Business Department.
Want more information? Click below.