New Rough-Turning Software Creates Better, Safer Toolpaths -- Much Faster
Introducing VoluTurn, Celeritive's new science-based rough-turning solution available for SIEMENS NX CAM. The software easily creates science-based toolpaths -- eliminating the need to use CAD geometry such as lines and arcs.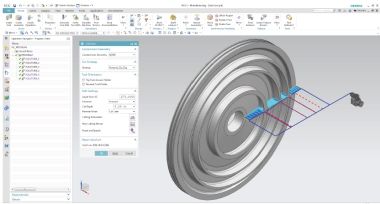 Advantages of VoluTurn:
Dramatically reduced programming time on complex parts
Integrated in NX CAM -- Associative toolpath design
Easier on machine-tools -- always smooth, flowing motion
Increased tool life -- eliminates over engagement and dwelling
Predictable tool life -- distributes wear evenly on inserts
Reduced machining loads -- material entry and exit is always smooth, circular, and tangential
A Powerful New Solution for Siemens NX CAM
VoluTurn is a powerful new toolpath technology that can significantly improve the machining of any part that is turned using round inserts and offers manufacturers the ability to significantly increase productivity by reducing cycle times while also reducing wear on cutting tools.
VoluTurn will also increase productivity for manufacturers by greatly reducing man-hours for programmers who are currently required to manually create toolpaths by using CAD geometry, such as lines and arcs, to drive cutting tools.
VoluTurn is targeted at the types of parts most commonly associated with the power-generation industry, but will be equally effective in any industry that faces similar challenges related to complex toolpath creation and difficult-to-machine materials.
Features
Automatic collision avoidance, even with full holder assemblies
Enhanced local return support -- stop to check, index, or change inserts based on time, distance, or number of passes
Efficient repositioning between cuts
Unidirectional or bidirectional cutting patterns, with constant or variable depths, fully utilize the inserts while helping prevent notch formation
Entry and exit arcs are automatically calculated for optimum performance and minimized insert wear
Want more information? Click below.
Copyright © 2019 by Nelson Publishing, Inc. All rights reserved. Reproduction Prohibited.
View our terms of use and
privacy policy