Universal Spindle Machines Offer Fast Changeovers Between Gundrilling and Machining
Within UNISIG's full USC-M range of drilling and machining centers for moldmakers are universal spindle-style machines, dedicated spindle types and high-dynamic machining centers. For both gundrilling and machining, USC-M universal spindle machines offer extreme versatility and fast changeovers between the two processes for the efficient production of complex mold components.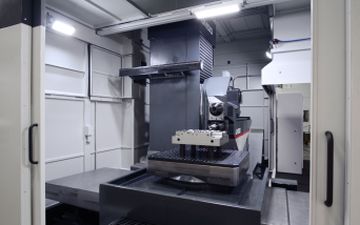 Equipped with both milling and drilling spindles, the dedicated spindle type USC-M machines provide gundrilling, BTA drilling and machining. This selection of 5 to 7-axis machines allows moldmakers to not only acquire the exact machine capabilities for their production requirements but also gain a system that improves overall part machining performance.
For robust mold component processing, the UNISIG USC-M high-dynamic machining centers provide powerful geared-headstock milling, dynamic machine motion performance and both BTA and deep hole drilling all on the same machine platform. The heavy-duty machines in this range feature seven axes, tool changer capacities of 90 to 120 tools and automatic pallet changers that handle loads up to 25 tons.
According to Anthony Fettig, CEO of UNISIG Deep Hole Drilling Systems, the company engineers and manufactures its USC-M machines to improve overall part processing for a complete range of mold component applications. "We are committed to providing solutions that are aligned with the needs and goals of moldmakers," he said. "Backed by high-level knowledge and service, our machines deliver process stability and reliability to keep today's moldmakers productive and competitive."
Want more information? Click below.
Copyright © 2019 by Nelson Publishing, Inc. All rights reserved. Reproduction Prohibited.
View our terms of use and
privacy policy