Robot End Effectors Allow Machine Tools to be Connected Directly to the Robot
As a specialist in automation processes, machining units, hand held power tools and abrasives, SUHNER has expanded its wide product range with special tools that can be mounted directly to the robot arm. Thanks to a quick-change tool adaptation system, a number of powerful machine tools can now be connected directly to the robot, ready for continuous industrial use.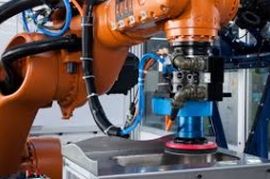 Specifically, for round and irregular shaped pieces and surfaces, a human sense of touch that helps to meter and monitor required forces will be needed. This can be seen in the grinding and polishing of a special shaped part. At all times, when a non-linear operation or movement takes place, the active flange or some type of force feedback will become necessary.
Operations that were not suitable for automation in the past can now be automated because:
Process forces are programmable.
Tolerances (shapes) will be balanced.
Programming time and effort (at the robot) for complex parts will be reduced.
Performance and process assurance compared to known systems such as load cells, can be drastically increased.
Quick Change Systems
Standardized connections at the robot arm and the tool are used to automate the quick-change system. Connections are made quickly and reliably between air and hydraulic mediums with electrical or sensor technology.
Change of the Abrasives
Abrasives typically have a short life cycle. A patented, simple quick change of abrasives system (dispose and reload) was added to the program to simplify the change of abrasives.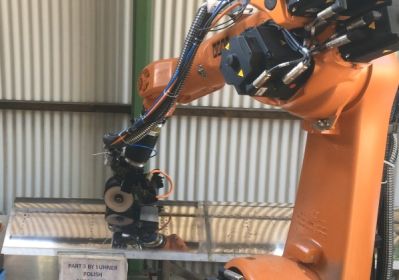 This quick change abrasive system allows the use of 7 different abrasives in sequence to achieve a desired surface finish.
An automated abrasive change increases the flexibility and eliminates unproductive production hours.
Servo Motor Driven Angle Grinders
Today, most robot guided grinding and polishing machine tools are operated by air. Often, considering a 24 hours operating environment, these machines reach their limits. Frequent service interruptions plus extremely high air consumption adds to energy cost that also will affect profitability.
In addition, air driven tools drop in speed when under load which can contribute to an adverse effect to the surface finish. Depending on surface quality requirements, the rotation of the grinding or polishing tool often requires clock- and counter clock rotation which an air driven tool can't accomplish.
All of these critical requirements can be met with the newly designed servo driven tools from SUHNER either in standard or excenter design version. Light weight and powerful servo motors are used to obtain high speeds up to 12,000rpm with timing belt drive components made for continuous operation. Adapter flanges facilitate exchange and attachment to all robot flange designs.
Just like SUHNER machining units, robots can easily be adapted to perform different tasks in an ever-changing production environment. One of the top engineering universities in the USA is conducting tests with a Kuka robot (KR-Fortec) and a SUHNER machining unit (BEX35-ISO) These material tests are made for one of the world's leading aerospace companies.
Want more information? Click below.