Entertaining Film Explains the Science of Vibration-Damping Technology
What does the Taipei 101 skyscraper in Taiwan have in common with a cutting tool that can fit in the palm of your hand?
The answer comes in the fact that both have a requirement for tuned mass damping -- a technique that can be applied to control unwanted vibrations in various applications ranging from large constructions to small tools for industrial production.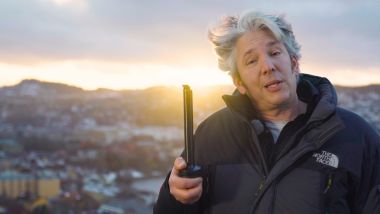 The science behind tuned mass damping is showcased in an entertaining and accessible manner in a new film from Sandvik Coromant. Fronted by the engineer and inventor Edd China, the video explains the basics of vibrations and how they occur, followed by the principle of tuned mass damping technology.
In the film, the presenter visits Sandvik Coromant in Trondheim, Norway, where world-leading research into vibration-reducing technology for machining is undertaken. During a series of interviews with experts from the company, he learns about how tuned mass damping is applied to modern cutting tools.
The film also shows how the concept of tuned mass damping can be dramatically scaled up, with the presenter overseeing the hands-on construction of a simplified model of the Taipei 101 tower to illustrate how tuned mass damping works in practice.
"It doesn't matter whether the tower is 500 meters tall, or it's a tiny tool -- they are both subject to the same laws of physics, and both damp vibrations by the same method," concludes Edd China.
Copyright © 2019 by Nelson Publishing, Inc. All rights reserved. Reproduction Prohibited.
View our terms of use and
privacy policy