Marking System Ideal for Large Parts or Large Volume of Small Parts
The Marksman MK-200BN-250 Ball Screw Driven Marking System is designed for precision and versatility.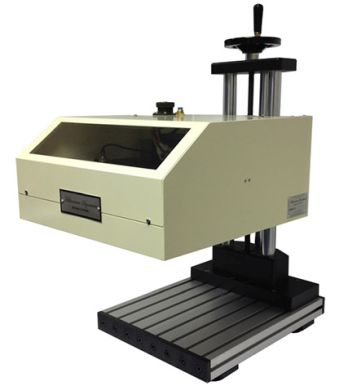 This bench top marker offers an overall marking area of 9.84" x 9.84" and is ideal for marking larger components, large nameplates, or smaller components fixtured in multiples.
The MK-200BN-250 can also be integrated with the CDC-20 -- a heavy-duty rotary axis on a positively aligned sliding table -- which makes both conventional flat marking as well circumferential marking of cylindrical parts very fast and easy with great looking results.
The unique positive alignment slide is the only dot peen feature of its kind that allows for switching between flat marking and cylindrical marking extremely fast and easy.
The MK-200BN-250 is very precise. For this reason, it is ideal for the marking of 2D Codes, UID Codes and QR Codes along with Vector Graphics (Logos), Alpha-Numeric Text and Symbols.
All of the Marksman systems offer functionality such as Auto Date/Shift Code Marking, Sequential Serial Numbering, Special Date Coding, Radial (Arc) Marking and more.
Want more information? Click below.
Copyright © 2019 by Nelson Publishing, Inc. All rights reserved. Reproduction Prohibited.
View our terms of use and
privacy policy