Two productive, but relatively small, Illinois shops joined forces in a new business model that allows them to tackle large contracts as a team.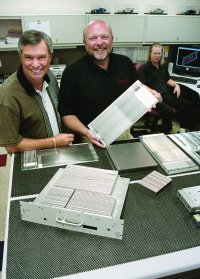 The owners of AT Precision (Northbrook, IL) and K&C Precision Machining (Wood Dale, IL) – Chuck Thudium and Greg Kaplan – were long established customers of a well-known make of "high-end" Japanese machine tools. That's how they met, and that's when they started discussing the challenges faced by expanding machining businesses.
In particular, Thudium and Kaplan talked about the relative advantages and disadvantages of being a big company versus being a small company. They agreed that small companies often fail to win large contracts because they don't have the capacity available to pitch for the business. The paradox is, of course, that most machining businesses can't afford or won't risk investing in the necessary capacity until they have a contract.
On the other hand, Thudium and Kaplan also agreed that big companies can't respond as quickly as small companies when providing prototypes and small quantities of production. The lower inertia and inherent flexibility of a small company can be a very attractive characteristic in supporting new-product development.
Critical Mass
"We probably talked about those ideas for a year or so before we eventually decided to join our companies, become the KC/AT Machining Group, and present a whole, new picture to our customers," says Kaplan.
"Previously," Kaplan adds, "K&C and AT were two separate companies with just eight or nine machines each. When we joined forces we had 18 machines."
Increasing capacity by 100% would have been a major financial, management, and staffing commitment for either company working alone, but by collaborating, both organizations collectively gained the critical mass they needed to gain access to their target markets.
"Our companies are separate profit centers using the same CAD/CAM system, production-management software and production equipment," says Kaplan. "We share technology, fixtures and programs, but not management. Each company has their own programming, set-up, production and quality assurance staff, and Chuck and I handle coordination. Sometimes we work independently of each other, or we work as a team to totally satisfy our customers' needs for quick prototypes or short lead-time production."
Setting the stage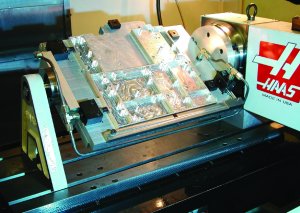 As opportunities presented themselves, the new alliance put its plan into action. AT set the ball rolling.
"We were doing some work on our manual mills and we wanted to do it faster and more efficiently," says Thudium. "At the time, we were running four Japanese CNC mills and were thinking about buying a fifth so we could handle the extra machining. But, the price I'd been quoted by the distributor just wasn't good enough. I told him I wasn't happy and that I was thinking of looking at other machines. He said, 'Fine, go ahead.' He didn't make any effort to improve his offer."
This prompted Thudium to call Haas sales engineer Jay Stevens at the Haas Factory Outlet (HFO) in Elk Grove, near Chicago, owned and operated by Arthur Machinery.
"I was very snobbish," laughs Thudium. "I called Jay and said I want to come and have a look at some Haas machines, but I don't want you selling them to me – I just want to take a look."
If he had preconceived ideas about the ability of Haas compared to his existing Japanese machines, Thudium put them aside when he went to see the U.S.-built machines in action. "I certainly didn't think that Haas could compete with the Japanese machines," he says. "But I was so impressed, and the Chicago HFO made us such a great deal, that I bought two Haas VF-OE vertical machining centers there and then."
"Chuck was our Guinea Pig," says Kaplan. "He ran the Haas machines for almost a year."
"I couldn't believe how reliable and accurate they were," Thudium says. "That's when I got down off my high horse and realized that we were on to something good. These machines could really make us some money, especially when you consider that the Haas machines cost one third as much as the similar sized Japanese machines we'd been buying previously. That means we can put three times more spindles in the shop for the same money," he notes.
New Opportunities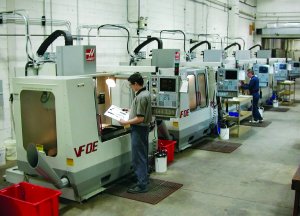 An area where K&C in particular had been specializing for some time was the telecomm industry.
"Because of our alliance with AT, I was able to present an extremely aggressive delivery schedule for 50 prototype components machined from billet on an electronics project," says Kaplan. "Although we'd already done several small programs together, the collaboration between us really kicked-off when we got this job.
"These prototypes presented an opportunity to truly test our alliance concept," Kaplan continues. "K&C supplied the necessary 3D CAD model, workholding concept, and fixture components; AT designed and manufactured the fixtures, wrote CNC programs, and provided the production capacity, as well as quality assurance, enabling the KC/AT Machining Group to successfully deliver the fifty prototype components in 10 days. This included one day for plating," he explains.
"Within a few days of delivering the prototypes, we received a call from the customer requesting that we submit a bid for the entire production package," Kaplan says. "They wanted approximately 52,000 of these parts delivered at a rate of 2,000 per week over a six month period. Chuck and I laughed. We didn't have anywhere near that kind of capacity, and even if we did acquire the capacity, what would we do with it at the end of six months?"
Despite the uncertainties, Thudium and Kaplan didn't want such an opportunity to slip through their fingers without at least making an attempt.
"We called the guys at the Haas Factory Outlet and told them we wanted a complete cost to lease 20 Haas vertical machining centers for six months," Thudium recalls. "Haas was the only machine tool manufacturer to even consider the six-month leasing request."
With the machine leasing cost in hand, Thudium and Kaplan added the costs for materials, plating, packaging, shipping, labor, and overhead, as well as the cost of installing the new machines.
"We took our total cost, including profit margin, and divided by the number of parts to arrive at our unit cost," says Kaplan, "and that's the number we took to the client."
"It was a long shot. We were fully expecting to be too expensive," adds Thudium. "Within days, we had our answer. They were so impressed, that we got the contract. Not only were we the low bid, but we were the only vendor to actually agree to the aggressive schedule."
Acid Test
Green light, the contract duly arrived: aluminum covers for an electronic control box.
"The customer wanted 2,000 covers a week, and we had just eight weeks to go from order to first delivery," says Thudium.
With such a tight deadline, Kaplan and Thudium set their teams to work arranging and securing all necessary materials and resources. The first priority was getting the Haas machines in and running as quickly as possible. The staff at Arthur Machinery sprung into action.
"From the time we placed the order for 20 Haas machines, to having them all cutting metal was just six weeks," Thudium enthuses. "The first five machines were delivered to AT in three weeks. The following week, another five arrived, and the week after that, Greg took delivery of his10."
In keeping with their original plan, K&C and AT shared an equal part of the total investment. This was the acid test. The whole project depended upon them being able to work together and get the systems in place to keep the customer happy.
"We decided to get Chuck's machines up and running first, so he could build the tooling for both plants. Our plan worked. While the guys were installing and leveling the machines at K&C, we were busy bolting on the fixtures at the same time," laughs Kaplan.
"By the end of the seventh week, we notified our customer that parts had been processed through every machine and verified for accuracy. Their final audit and sign-off were all we needed before KC/AT could turn on production," says Kaplan.
"Chuck and I couldn't have been more proud of our staffs, our Haas machines or the support from Arthur Machinery as the customer audit took place. We exceeded output and easily satisfied every quality requirement," Kaplan states.
Several days passed without permission to proceed with production. Greg called the buyer, and discovered the delay was due to testing by the Federal Communications Commission, and that approval by the FCC is required before any production will be allowed to start.
"After a week of daily phone calls the results were in, and the news was not good," says Kaplan. "The program had failed FCC testing and was cancelled. There was never any indication that the program was tentative. That gives you an idea of how fast the telecomm industry works to bring new products to the market place."
"Fortunately," he continues, "whenever Chuck and I negotiate contracts of this magnitude, we always negotiate the cancellation cost. In this case, the customer was already in possession of the detailed spreadsheets listing all associated liabilities; they knew exactly what they were getting themselves into."
Kaplan's thorough preparation paid off.
"We had a check within four weeks for the entire cancellation fee. It covered everything, so we knew that whatever happened, this deal wasn't going to sink us." What's more, the customer had already started thinking about the next program.
With another program quickly taking the place of the just cancelled one, meetings were arranged with the customer's engineering and purchasing staff to determine which expenses could be applied to the new program. "Chuck and I are very good at working closely with our customers' engineers to achieve lower-cost designs," says Kaplan. "After a few simple modifications, we were able to use the raw material from the cancelled program, saving them a lot of money."
Together, Kaplan and Thudium identified hundreds of thousands of dollars in line-item costs that could be applied to future programs. Since the start date for the new program was unknown, their customer agreed to accept the itemized savings as a discount on future part pricing.
Happy Ending
Thudium and Kaplan purchased the majority of the leased machines, and currently have a total of 31 Haas CNC vertical machining centers of different sizes and specifications, many of them with 15,000-rpm spindles and automatic pallet changers.
Since making the decision to join forces, Kaplan and Thudium claim to have tripled their volumes.
These days, the KC/AT partnership customer list looks like the who's who of the telecomm industry, as well as the automotive, aerospace, medical, refrigeration and sensor industries. Each company has maintained its area of specialization: K&C in the electronics, refrigeration and sensor sectors, AT in the automotive, aerospace and medical sectors.
"Independently, both companies have benefited tremendously in their specialist areas from investing in the Haas machines," says Kaplan. "But by combining resources, we've been able to pitch for and win the big jobs. And they really make a difference."
Haas Automation
www.rsleads.com/303mn-201
---
- March 2003