Laser Measurement System Now Offers Easy Alignment for Stage Builders
Users of Renishaw's leading XM-60 multi-axis calibrator can now benefit from a new single-axis horizontal stage.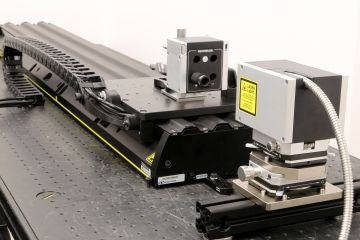 This enables precise alignment in applications without an axis perpendicular to the travel. Precision translation of the XM-60 launch unit is easily achieved with the horizontal stage, without disturbing yaw alignment. This feature is particularly useful for applications such as stages and printers.
XM-60 is a laser measurement system capable of measuring errors in six degrees of freedom along a linear axis, simultaneously from a single set-up.
The system has been designed to measure motion errors directly, by aligning the laser beams with the axis under test. This reduces the inaccuracies which can result from complex mathematics used in alternative measurement techniques. Direct measurement makes comparison, before and after adjustments, a quick and simple task.
A vertical stage that can be used separately or in combination with the horizontal stage will be available later in 2020.
Want more information? Click below.
Copyright © 2023 by Nelson Publishing, Inc. All rights reserved. Reproduction Prohibited.
View our terms of use and
privacy policy