Dual-Spindle Turning Center Offers Two Separate Machining Areas for Maximum Flexibility
EMAG's VL 5 DUO TWIN-process turning center handles the most varied production scenarios for a dual-spindle machine.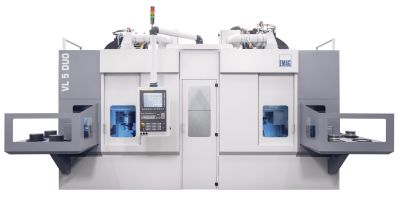 A "single-machine solution," this TWIN-process turning center enables many production scenarios.
The mirrored machining areas each have their own working spindle. With an output of up to 34.1 kW and a torque of up to 593 Nm (at 40 percent duty cycle), these spindles have adequate power for fast and precise machining.
Moreover, each machining area is equipped with a tool turret including twelve tool posts (with either VDI 40 or BMT 55 interface), which can be loaded with driven tools and a Y-axis in addition to the turning tools.
Built-In Quality
The machine base of the VL 5 DUO dual-spindle turning center is cast from MINERALIT® -- a polymer concrete with optimal vibration-damping properties. All production units, such as spindle and tool turret, are fastened to this machine base with maximum stability.
Furthermore, there are size 45 recirculating roller guide rails as well as a direct distance measuring system in all linear axes. This guarantees the VL 5 DUO's highest positioning, repeat and long-term accuracy.
If required, a measuring probe can also be integrated in the machine, which enables quick component measurement between the time that components are loaded and unloaded.
Perfectly Matched Automation System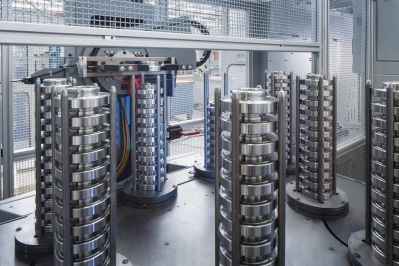 The TrackMotion automation system allows the use of stacker pallets for stacking large quantities of raw parts in a very small space.
The VL 5 DUO turning center features an integrated automation concept and is equipped with a pick-up automation system. The TrackMotion automation system enhances this integrated automation system and loads the single-part pallets on the parts storage unit, which travel back and forth between the loading positions next to the machining area and the rear part of the machine.
With the VL 5 DUO dual-spindle turning center, EMAG is introducing the tried-and-tested DUO concept for a range of parts up to 250 mm and thus precisely for the area that production planners are targeting, i.e. components from the entire powertrain area.
Want more information? Click below.