52-Piece Modular Fixturing Bundle Moves Easily Between Machines -- No Downtime
With Phillips Precision's ready-made fixturing, laser marking and welding technicians can now build palletized modular fixtures that can be easily removed from the machine and then precisely reinstalled with the click of a magnet.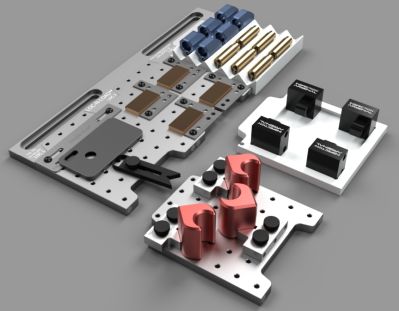 Allowing for quick swaps between fixtures in one machine and easily move fixtures from one machine to another with virtually no down time, ready-made fixture plates and components save manufacturers from the cost and time it takes to design and build their own fixtures in house. Whether a small job shop with a single piece of equipment or a large manufacturer, modular laser marking fixturing will dramatically accelerate your processes.
Phillip Precision's new 52-piece Laser Arsenal® Bundles are available with your choice of 12", 18" or 30" docking rails to fit any size machine. Plus, multiple .5" thick aluminum fixture plates, an Adapter plate, plastic V-Trays and a Pocketed Tray, Magnetic v-blocks, Simple-Stop™ rails, hole adjusters and other various standoff, clamps and hold downs are also included.
Everything is designed with ¼-20 threads to accept any standard hardware and even existing fixturing, eliminating waste, and permitting the easiest adaption to leaner modular palletization. Shops can add to their system with a variety of fixture plates and workholding components, specialty clamps and vises.
All components are standard and in stock. Custom designs are also available.
Want more information? Click below.
Copyright © 2021 by Nelson Publishing, Inc. All rights reserved. Reproduction Prohibited.
View our terms of use and
privacy policy