Monitor Your Collaborative Robots Remotely with New Cloud-Based System
Productive Robotics, Inc. has released Productive Analytics -- a system that provides real-time status monitoring for all OB7 cobots. With this easy access to the operating status of all cobots and their entire production history, customers are able to optimize their production, identify production errors, minimize downtime, and remotely monitor their robot activity.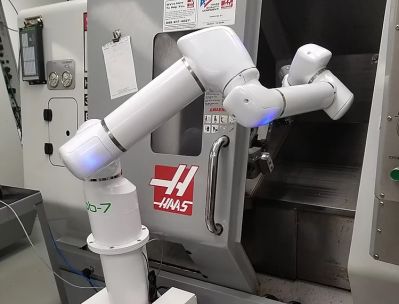 "As our robots are running longer hours and 'lights out,' we've had more and more requests to be able to remotely monitor their activity. We created Productive Analytics to both monitor robot operation, as well as to provide reliable and accurate production data," states Zac Bogart, president of Productive Robotics.
The system provides data on current running jobs, past jobs run, running hours, production results, production errors, job run times, and robot idle times. Scheduled reports are automatically delivered via email in PDF and CSV files for importing into company's production data systems. No network ports are left open on OB7 cobots, assuring safety from hacking or malware.
"With our extreme focus on security, there is no internet access into our robots, and all production data is fully encrypted before it is sent to the Productive Analytics cloud," states Bogart.
With valuable production data and robot monitoring, customers can identify errors and bottlenecks, minimize downtime, and optimize production. Production data can be transmitted via either wired network, wirelessly through Wi-Fi, or through customers' own private cellular connection.
Productive Analytics is available free of charge for all OB7 cobots currently in operation. All OB7 cobot models also provide seven-axis capabilities and "no programming," simple teaching platform -- the user simply shows OB7 how to do the job and OB7 learns -- providing customers with complete ease of use.
Want more information? Click below.