Versatile New Machine Cuts….and Welds
Koike Aronson Ransome has released the company's newest portable cutting and welding machine: the IK-12 NEXT.
The IK-12 NEXT is extremely versatile with the ability to both cut and weld. This machine is designed with two patented features, a heat emission mechanism and a creep control button. The heat emission mechanism is ergonomically designed to displace up to 45% of all heat. The creep control button is used to slow down the machine at the beginning and the end of a cut, this is especially useful for thick plate cutting.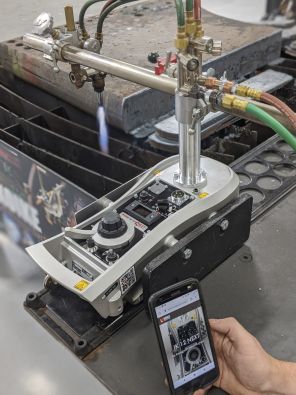 "When you are in the market for a portable machine, you need a durable piece of equipment that improves shop efficiency and productivity," said Ben Cramer, Portable and Gas Apparatus product manager. That's why versatility and ease of operation were the most influencing factors in the design of the IK-12 Next. This machine can weld and cut quickly and accurately, but it's easy enough to use so that operators of all skill levels can achieve consistent high-quality results."
This machine comes standard with a multi-function digital control panel that enables the operator to precisely set a wide range of parameters as they relate to each process. The IK-12 NEXT's powertrain allows for extremely specific positioning and ensures continuous drive speed and pulling force regardless of power fluctuations and varying load weight.
This machine is capable of plasma and oxy-fuel cutting as well as general welding and pendulum weave welding. For easy set-up, installation instructions for the IK-12 NEXT are available for instant download to any smart phone.
Want more information? Click below.
Copyright © 2020 by Nelson Publishing, Inc. All rights reserved. Reproduction Prohibited.
View our terms of use and
privacy policy