Creative Fixturing Solves Big Problem
Akron Gear & Engineering of Cleveland, Ohio had a problem to solve -- how to vertically hold a large one-ton ring while their vertical turning lathe (VTL) was down -- and the customer needed the part ASAP. Working with the Engineers at Mitee-Bite Products in Ossipee NH, they came up with a solution. And less than 10 days after the initial call, Akron Gear was making chips.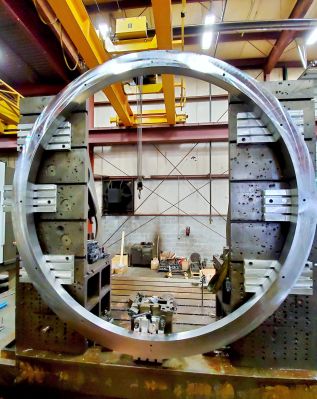 Akron Gear & Engineering provides parts and service to a wide range of industries. They have the equipment and knowledge to handle some of the largest machining jobs, including their ability to supply large industrial gears. Recently, they were confronted with a unique project that required finding workholding to accommodate a one-ton ring.
Dennis Miller, of Akron Gear & Engineering said, "To the best of my knowledge this is the largest one our customer has required in the States. Right now, this is a one-time piece and we are doing it this way as our large VTL is currently being updated and rebuilt, and to keep the work in-house. I had the pleasure of working with Rich Jones from Atwood Industries and Mike Witzgall from Mitee Bite Products -- getting the right information and clamps to hold this."
Mitee-Bite Products is the innovator of compact, low-profile edge clamps geared towards improving productivity and providing solutions for difficult workholding applications.
David Bishop, General Manager at Mitee-Bite Products said, "There was a lot to be considered with this project, going vertically opposed to their VTL, now all the stress from the weight of the part is working against you and the machining forces are applying even more pressure on the pins and clamps."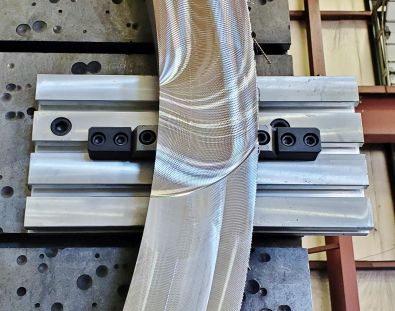 After discussions with Michael Witzgall, Senior Applications Engineer at Mitee-Bite, a modular solution mounted on t-slot sub plates was recommended. New Mitee-Bite Heavy Duty™ T-Slot Clamps with Blunt Edge Pitbull® Clamps and the large Multi Fixture Stops for OP#1 were used. Then Modular XYZ Xpansion™ Pins were used for the I.D./O.D. and facing operations leaving the part completely free from any clamp interference.
Miller went on to explain how the project took shape.
"The top section had no real support and the only issue encountered was the span between the top supports due to the position of our angle plates -- it created lots of vibration. Initially, I was using a 6" face mill to cover the entire face in one pass. The crust was much harder than under the surface, machining this unsupported portion of the ring resulted in chatter marks. I switched over to a 4" face mill to get through the surface. Once below the crust, I was able to go back to the 6" mill which I ran at a .060 depth of cut and 90IPM feed rate. It still had a very slight vibration during machining.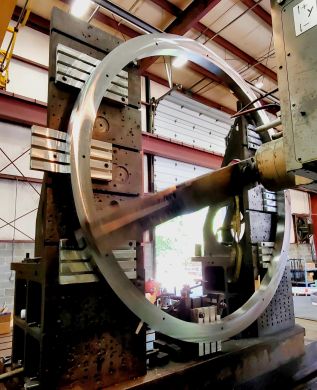 "To take a final pass for the finish I used a 6' boring bar with a single point insert which produced a nice finish and cleaned up all of the vibration. Thanks to Mike for suggesting the XYZ Xpansion™ Pins, which I believe had less vibration, and we can do 3 sides in one set up saving a load of set up time from moving clamps and indicating the bore in countless times. Now, we are setup with the XYZ 16mm Xpansion™ Pins and I am roughing the O.D. down close to size where it will be finished using an O.D. turning setup."
"I cannot say exactly how much time was saved on the setup but it was significant, being I did not have to keep changing the clamping setup and indicating it in. Just goes to show you that you don't need the biggest clamp to hold the bigger parts!" exclaimed Miller. "All in all, it was a great learning experience and now I have much respect and admiration for Mitee-Bite and the products they manufacturer."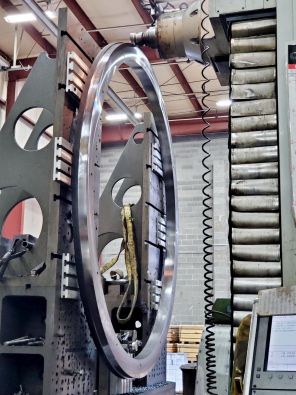 "Imagine if this job had to be routed overseas -- correspondence can be difficult not to mention two month transit time for ocean freight delivery. That cost alone could exceed manufacturing expenses. We are humble and proud to help keep this job in the U.S.," said David Bishop. He wrapped things up by saying, "Akron contacted us looking for a solution to hold a large heavy ring vertically, and we provided a low-cost modular solution using some of our newer products. What really impressed me was how quickly they put the plan in action. As the old saying goes, if you're not making chips, you're not making money!
"This is a perfect example of what we strive to provide our customers, this application is fast becoming one of my favorites!" concluded Bishop.
Want more information? Click below.