Kano Laboratories Refreshes Iconic Kroil Brand -- Launches New Website
Kano Laboratories, a leading producer of penetrating oils and lubricants, has launched an extensive refresh of their Kroil brand.
This effort marks the first time in the company's long history, of undertaking such a broad reaching brand re-work. It includes consolidating key products under the Kroil brand, updating product packaging and launching a new website (www.kroil.com).

VIDEO: Founded in 1939 and based in Nashville, Tennessee, Kano is a leading producer of iconic, branded penetrating oils and lubricants.
As part of this initiative, Kroil Original Penetrant will now be used as the primary brand and product name for Kano's popular liquid and aerosol variants. The aerosol product formerly known as AeroKroil will now be marketed as Kroil Original Penetrant.
Similarly, the aerosol product formerly known as SiliKroil will now be marketed as Kroil Penetrant with Silicone. In both cases, the trusted product formulas within the cans will remain the same. Only the names and product packaging will change, with new packaging becoming available in the summer of 2021.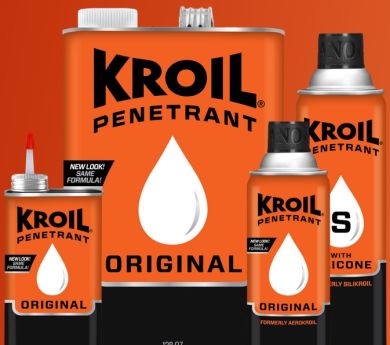 Additional Kano products, including industrial lubricants, cleaners and other specialty chemicals, will continue to be sold under their current names and variants, and will be integrated into the Kroil naming umbrella at a later date.
"The Kroil brand name has been synonymous with dependability, excellence and results for decades," said Kano Laboratories CEO, Sevan Demirdogen. "Generations of our core customers have trusted Kroil products to help them tackle tough jobs, the right way. As we head into a pivotal new era for our company, we are pleased to present a dynamic brand presentation that both celebrates our heritage and ushers us into the future. While our products remain unchanged, our new look further heralds our winning brand and market-leading presence."
Want more information? Click below.