New Steel Turning Grades Improve Wear/Heat Resistance; Extend Tool Life Up to 100%
Sandvik Coromant's GC4415 and GC4425 steel turning grades are ideal for manufacturers operating in mass and batch production set-ups. The GC4425 grade provides improved wear resistance, heat resistance and toughness, considerably expanding the application range. Grade GC4415 complements GC4425 when more heat resistance is needed.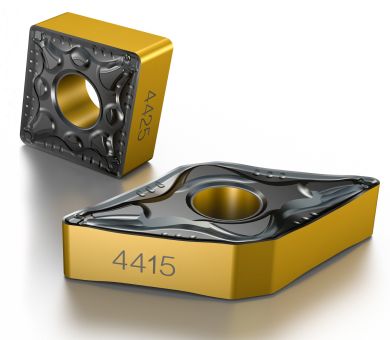 To increase their use for steel turning applications across the automotive, energy and general engineering sectors, the upgrade includes more insert shapes for each grade. Having access to the correct insert shape is vital for effective finishing and roughing operations, and the insert shape should be selected relative to the entering angle accessibility required of the tool.
"In October 2020, Sandvik Coromant made a total of 547 items available as part of the grades' release," explained Rolf Olofsson, Product Manager at Sandvik Coromant. "However, to meet the demands of Sandvik Coromant's wide-ranging customer base, we always aim to build on our product innovations and continuously improve. As a result, an additional 381 items have been added to the range.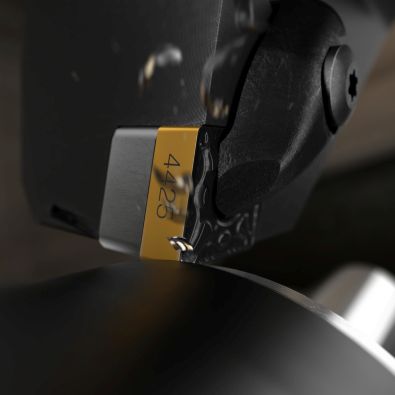 "The GC4415 and GC4425 inserts show superior wear resistance over competing inserts, which contributes towards extended tool life and predictable performance with every use. This also minimizes material waste, both from the workpiece and the insert. With these benefits in mind, offering extra insert shapes that are compatible with more tool holders means that more customers will be able the take advantage of GC4415 and GC4425 for their steel turning operations."
While still relatively new to the market, GC4415 and GC4425 have demonstrated measurable productivity benefits since their first release. One general engineering customer, using the GC4415 insert to carry out roughing on a P2.5.Z.HT steel workpiece to machine a pulling rail, saw an 80% productivity increase and a 100% increase in tool life when compared to a competing grade.
Elsewhere, when roughing an axis for a power generation customer, the GC4425 demonstrated a 90% increase in tool life, providing secure machining with stable and predictable flank wear and no notch wear.
Want more information? Click below.