CNC Punching Machine Given Chic New Design
The BOSCHERT Compact has gained an excellent reputation as a dynamic, stable, reliable and flexible punching machine for entry-level CNC sheet metal processing -- and now the BOSCHERT engineers have given the machine a full facelift.

The new design itself is extremely convincing, but the Compact EVO also has several practical improvements to offer.
For even more options in sheet metal processing, the roller and embossing unit is now on board as standard, and an edge protector prevents long-term damage to the brush table. BOSCHERT can also enclose the hydraulic unit for visual and noise insulation on request. The oil lines are integrated into the frame by BOSCHERT. This has enabled the Lörrach-based company to not only improve the accessibility and appearance of the punch, but to also significantly dampen the noise of operation.
Another new feature is the cable duct which accommodates the cables. It is positioned between the control cabinet and the machine. The Compact EVO has a tidy appearance. It increases the level of work safety and reduces operational noise, which is a real stress reliever for the machine operator. The control and use of the punching machine also focuses on the health of the user, who can control the system ergonomically via the new mobile control panel with its working surfaces and storage areas. A container with rollers facilitates the disposal of the punching waste.
Proven technology completes the package
The Compact EVO is flexible and versatile. Available in five sizes with a working range between 500 x 1,000 and 1,500 x 3,000 millimeters, it has a lifting height of 90 millimeters and, if required, an automatic clamp adjustment.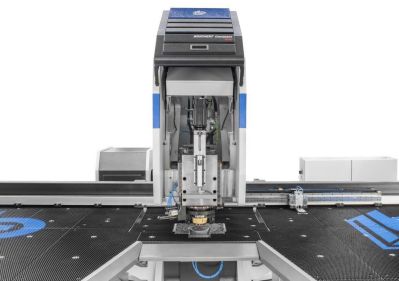 Depending on the punching head in use, the punch generates pressing forces of 280 or 400 kilonewtons, and its robust C-frame also makes it very stable.
It is equipped with a Trumpf tooling system. Two servo motors rotate all tools up to a diameter of 105 millimeters continuously through 360 degrees. The indexing of the tools is done pneumatically via a locking pin with the help of the rotation.
BOSCHERT developed the Revotool with seven tools especially for this version. In addition to the six tools which can be used for an envelope circle of 16 millimeters, almost all contours can be cut using the 5 x 30-millimeter cutting punch -- so in most cases complete machining is possible without any tool changing.
The Compact EVO can process sheets with a maximum thickness of 6.4 millimeters, a maximum weight of 200 kilograms and, thanks to non-contact repositioning, up to ten meters in length. The operator can easily load the punching machine. The machine table is freely accessible and comes with practical aids.
Want more information? Click below.