Boulevard Machine & Gear Decides It Must Shrink in Order to Grow
The machinists at the Massachusetts shop produce quality components while utilizing a mix of 5-Axis Milling, CNC Turning, and CNC Gear Cutting equipment. But to grow the business and compete for jobs, the owner decided a switch to shrink fit technology was necessary.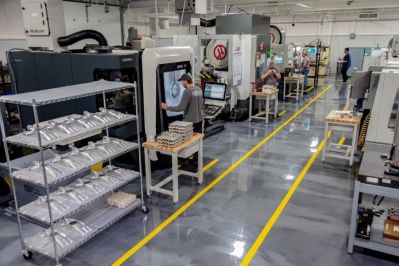 While the manufacturing of gears was once their mainstay, Boulevard has transformed into a versatile manufacturing facility under the undying persistence of Susan Kasa.
Boulevard Machine & Gear was founded in 1954 as a family-owned gear cutting shop because of its location in the Pioneer Valley of Massachusetts, which was the hub for the paper industry. Over the years with various family members in charge, they transitioned over to primarily serving the aerospace and defense industries. In 2006, Susan Kasa acquired the company and transformed Boulevard Machine & Gear into the versatile manufacturing facility it is today.
While Kasa's focus was to grow the company and have it be even more efficient, Boulevard Machine started to notice that they would run into some issues completing certain jobs with their conventional side-lock and collet holders.
They immediately reached out to Jim Roberts, Sales Engineer at Lindco Springfield, to see if he could guide them to a solution. "Boulevard wanted to run more accurately with tooling and extend tool life," explains Roberts. "I immediately recommended Boulevard take a look at the HAIMER product offering."
After seeing some of the benefits firsthand, Boulevard Machine decided to take the plunge and invest in a HAIMER Power Clamp Special Edition shrink fit machine, HAIMER Standard Shrink chucks, and HAIMER Power Shrink chucks and extensions.

VIDEO:Boulevard's HAIMER ¾" Ultra Short Power Shrink running at 750ipm.
Based on its high gripping torque and clamping 360 degrees around the cutting tool, shrink fit technology provides superior gripping torque, allows for excellent runout accuracy, balance repeatability and consistent clamping.
Boulevard Machine now has a wide assortment of CAT40 and HSK-63 holders in both Power and Standard shrink and all of the extensions.
Since switching to the heat shrink holders, Boulevard Machine noticed they were able to pick up their feeds and speeds as well. Boulevard Machine was able to cut 750 inches per minute with the ¾ inch HAIMER Ultra Short Power Shrink HSK-63 holder. Before, they were only able to cut 300 inches per minute in the same material.
Haimer's Shrink Fit Chuck
"We have more than doubled our feeds with the HAIMER Ultra short Power Shrink," Kristian Kasa, CNC Programmer at Boulevard, explains. "It's our go-to holder for roughing. It keeps our projection length short, which gives us much more rigidity than a conventional side lock or milling chuck."
Boulevard Machine & Gear now finds themselves doing as much five axis jobs as they do three or four axis jobs, whether its three plus two or simultaneously five. The HAIMER Power Mini shrink fit holders and shrink fit extensions helped get to all the hard-to-reach areas without any concern.
"We've had extensions stacked into HAIMER basic holders with more than 10 inches of projection with as little as two tenths runout," Kristian describes. "Without these holders, we would not be able to machine a large amount of the jobs through the shop."
For Boulevard Machine, it was an easy decision to purchase and invest in HAIMER technology. When Kasa acquired the company, she decided to modernize the company by reinvesting about 20-30% of its yearly revenue back into capital equipment. The focus and reasoning for this was to innovate for the current workforce and for the next generation of machinists joining the team.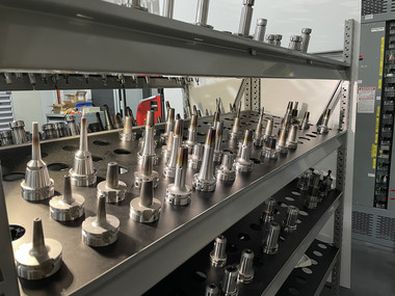 Boulevard produces parts for customers such as Boeing, UTC Aerospace Systems, Harris Corporation, Siemens, Parker Hannifin Aerospace, and many more.
"We work closely with our programmers and engineers to make sure that what we are implementing and using is making their jobs as easy and efficient as possible," describes Kasa. "With having the HAIMER technology and staying up-to-date with everything else, our team is no longer hesitant about quoting or taking jobs and they have the confidence to do any task because of the sophisticated technology."
After the success of implementing HAIMER and other technologies, Boulevard Machine quickly outgrew their footprint and decided to move to a larger, state-of-the-art facility in Westfield. "It really has increased productivity and energized the employees to be in this bright, new building," adds Kasa. "We have even hosted visits for people who are interested in the HAIMER technology. Honestly, a lot of our success has come from collaboration, especially between us, Lindco Springfield and HAIMER."
Want more information? Click below.