3-Man Shop Invests in 5-Axis and Doubles Its Work in Two Months
T&C Concepts, a family-owned machine shop in the Seattle area, recently added a GROB G350 5-axis machine to its existing portfolio of machining, welding, and 3D printing equipment. It's helping them reach their goal to be a one-stop shop for their customers.
With decades of experience as an open-wheel car racing workshop, T&C Concepts expanded into structural prototyping of parts for major aerospace companies in 2017. They knew that this type of precision work requires the most accurate and rigid machining possible. So, the shop invested in a new GROB 5-axis machine to help the company significantly increase volume capacity, speed, accuracy, and part quality.
After converting their racecar workshop into a machine shop, demand began growing for prototyping and long-term agreement (LTA) part production work. Although they run some welding and 3D printing equipment, the bulk of the company's production is in machining.
The shop has grown rapidly since its racecar days. After starting with a vertical mill, they added a small 5-axis machine -- and by late 2019 found even that couldn't keep up with demand. That's when they began their search for larger, more powerful, and more accurate 5-axis machine technology.
Trey Starks, co-owner of T&C Concepts, was guided by his open-wheel car racing experience in the search for the right equipment.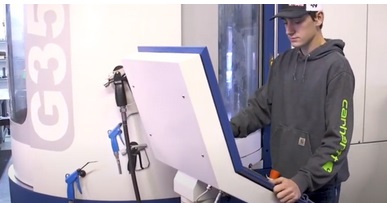 One of the main differences T&C has seen with the GROB machine is the accuracy. "I see that in part tolerances, and you get very little deflection," says Collin Starks, co-owner of T&C Concepts. "Some of the things you can do on the Siemens control is second to none."
"As a professional racer, I want to have the best equipment on the racetrack to have the best opportunity to win. The same mindset applies in my machine shop: I want the best opportunity for success, which requires top-quality machining equipment."
Considering GROB to be top of the class in the world of machine tools, T&C Concepts decided to purchase one of the company's top quality, versatile universal machining centers, reasoning that it would set them apart from competitors. After looking at all the options, they found that the G350 universal machine had the best design and layout for their needs.
Said Starks, "The horizontal spindle orientation and the ability to spin the table all the way upside-down are great for chip evacuation, and the fact that the spindle can pull all the way out of the work area means that we can use the entire work envelope to machine larger and more complex parts."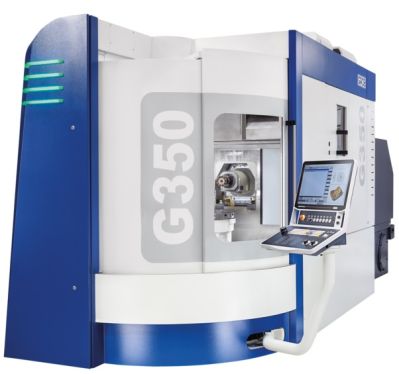 "With the GROB 5-axis, we attack parts, hit multiple sides, roll the parts around and not have too many setups and fixtures," says Trey Starks, co-owner of T&C Concepts.
Installed in February 2020, the T&C Concepts team got right to work machining aerospace parts, from ground support equipment to rocket engine parts.
The equipment also includes a pallet changer, which has increased production speed and expanded their capacity for LTA work by enabling operators to load the machine on multiple stations and automate production. Starks reports doubling its LTA work in a two-month period.
"We have been able to quote and start on jobs that are more complex, use tougher materials, and have more complex geometry than ever before," Starks added. "We don't have to shy away from complex work for fear of not having the capabilities to complete it. The GROB G350 is helping us bring our relatively young machine shop to the table and to deliver high quality prototypes and parts for our customers."
Want more information? Click below.