Tebis 4.1 CAD/CAM Provides Die and Mold Shops Increased Automation, Efficiency and Safety
Tebis, a specialist in CAD/CAM and MES process solutions in model, die and mold manufacturing, launches Tebis 4.1 -- a complete parametric-associative CAD/CAM system.
The latest generation CAD/CAM software provides seamless, highly automated mold, die and model design, development, programming and manufacturing in a single system. The proven software platform is built on input from in-field designers, making its logical and intelligent structure both intuitive and user friendly.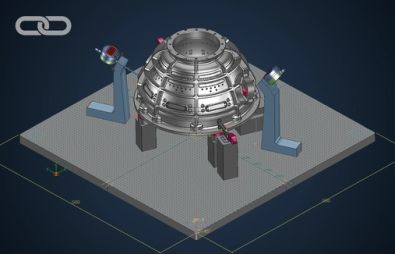 Additionally, Tebis 4.1 integrates measuring and production, resulting in shorter setup and machining time, higher component quality and fewer correction iterations. Finally, safety is improved by providing more flexibility to non-verified virtual machines to prevent potential collisions.
"Tebis has a history of helping manufacturers address challenges with proven technology, and 4.1 provides a comprehensive solution that improves the manufacturing process," said John Kowalczyk, president, Tebis America, Inc. "Our all-in-one software solution enables manufacturers to automate the design and build process, which results in better quality and improved efficiency while improving safety by eliminating potential collisions."
Key product features include:
A robust CAD hybrid system that combines free-form surfaces and solids: The newly developed parametric-associative system base is specifically adapted to requirements of single-part and small-series manufacturing, where everyday challenges include tight delivery deadlines, frequent component changes, many variants and varying levels of data quality. In contrast to many other volume-based systems, Tebis 4.1 doesn't distinguish between surfaces and open or closed solids, allowing all objects to intersect without creating error messages. Additionally, similar to the CAM environment, templates can be used to structure and standardize CAD activities.

Increased automation: The 4.1 platform provides all the necessary prerequisites for safe and efficient production even with a skilled-labor shortage, while supporting the automation of all manufacturing processes. The ProLeiS MES software is fully integrated so manufacturing can be automatically planned, controlled and executed. As an integration platform, ProLeiS can also be easily combined with upstream and downstream systems such as PDM, ERP and machine control systems.
A clamping device library: This supplements the proven virtual process libraries where details of the real manufacturing components are represented in the form of digital twins. The clamping device library can be used to conveniently create and manage clamping elements and clamping device groups and to set up the machine in the virtual environment. All relevant information is transferred with the NC documentation to the person responsible for setup.

Simple and intuitive user guidance: The new user guidance is consistently oriented to the logical work methods of CAD designers and CAM programmers. 4.1's revised structure tree gives the user a clear overview. For example, in the CAD node, you can view CAD elements and quickly and easily adjust objects designed using parametric-associative methods based on their creation history. With the new Job Manager and Tebis NC Job technology, CAM programmers can create and manage NC programs for all technologies needed to manufacture a component -- from milling to turning to hardening. The Job Manager, located in the CAM node, reflects the entire manufacturing process with clearly structured operating sequences and logically guides the user through CAM programming.
In addition, the personalized user interface can be individually configured and precisely adapted to specific tasks and requirements and can be used as templates for company-wide standards.
"As the manufacturing industry continues to manage the chaos resulting from the COVID-19 pandemic, it is critical that businesses invest in technology to help improve efficiency and streamline operations. Tebis 4.1 is a solution that is available today and can have an immediate impact," added Kowalczyk.
Want more information? Click below.