Ideal CNC for Start-Ups
Thinking of starting a shop? Unless you have a ton of money and willing customers, it can be a tough row to hoe. Still, thousands have done it, so why can't you? You need a good machine, though, and if you're expecting to do any kind of production work, it had better be a CNC.
VIDEO: Kent USA Acu-Mill Series CNC Machines
Back in the day, starting a shop was easy. All it took was a knee mill, engine lathe, band saw, some tooling and micrometers, and you were off to the races. Nowadays? Most companies won't even talk to you unless you have at least one CNC.
Fortunately, a handful of good CNC machines are available that won't break the bank. One example is the ACU-MILL series of CNC machining centers from Kent USA. Three models are available, starting with the 30,000-rpm AM1 to the 40-taper, 5-hp AM8.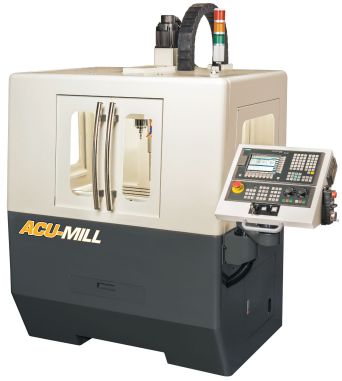 How about shops that want to automate their deburring and secondary operations? While the ACU-MILL vertical machining center is a good option for anyone starting a shop, it's also quite suitable for these and other businesses, job shops that need to increase productivity or part quality but might have limited budgets.
The ACU-MILL vertical machining center's features include:
Compact construction with small footprint
Highly rigid machine structure in combination with massive cast iron machine stand
30,000 RPM built-in type spindle assures low heat build-up and maximum stability.
ISO20 for Auto Tool Changer
Servo motor drive on X, Y and Z axes
Linear guide ways on X, Y and Z axes, featuring reduced stick-slip and improved positioning accuracy.
Rapid traverse rates of 30 or 40m/min on X, Y and Z axes
The ACU-MILL is ideal for high-speed micro machining miniature parts and graphite electrode machining and is perfect for R&D, medical manufacturing, and technical schools.
Want more information? Click below.