Two New PolyJet 3D Printers Offer Shops Desktop Solutions for Prototype Production
Stratasys has introduced two new PolyJet™ 3D printers, the J35™ Pro and the J55™ Prime, along with new software solutions for research and packaging prototyping.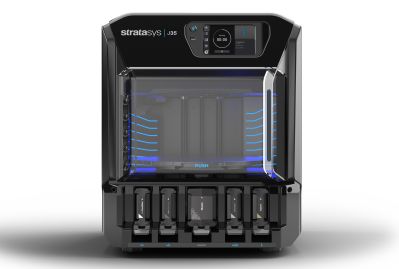 The J35 Pro represents the first multi-material 3D printer for the desktop from Stratasys, while the J55 Prime extends the value of the J55 3D printer to include a new set of versatile materials providing tactile, textual, and sensory capabilities in addition to full color.
"We're in the business of helping designers and engineers translate whatever they can imagine into reality," said Shamir Shoham, vice president of design for Stratasys. "Through the versatility of multi-material PolyJet 3D printing, our customers can create models and packaging prototypes not only quickly and efficiently, but with remarkable realism that stands out against other 3D printing technology."
J35 Pro Brings Multi-Material PolyJet Printing to the Desktop
The new versatile J35 Pro 3D printer accommodates everything from concept modeling to high-fidelity, realistic, fully functioning models.
This new all-in-one, multi-material desktop 3D printer is ideal for the engineering and design office setting. With the J35 Pro, users have the option to combine a variety of materials, including Vero™ UltraClear, that can be printed simultaneously giving engineers and designers the versatility to produce parts that match their exact needs.
The printer can incorporate up to three materials that can be printed as single material parts or combined on the same model part, on the same tray. Applications include over-molding, filling simulation and printing in full grey scale.
The multi-material capabilities of the printer allow designers and engineers to incorporate the widest variety of grayscale colors and materials into a single print, while achieving complex shapes, intricate details, and delicate features. Engineers and designers can not only see what the product will look like, but also test the functionality of it in the pre-production stage.
J55 Prime Extends Prototyping Possibilities
The J55 Prime builds on the technology of the Stratasys J55™ 3D printer introduced in 2020. This new system goes beyond full-color printing with new materials that enable tactile, textual, and sensory capabilities. In addition to the existing highly realistic visual models, the printer utilizes multiple materials that cater to design, functional and biocompatible prototyping.
The J55 Prime is shop-friendly, with a compact design, odor-free and quiet operation. Shipping is expected to begin in July 2021.
Want more information? Click below.