New Soft Jaws Offer One-Size-Fits-All Workholding Alternative
Norgren, part of IMI plc, recently launched its workholding line with the Adaptix™ Soft Jaw as the first product in the new portfolio.
The Adaptix™ Soft Jaw uses adjustable fingers and interchangeable tips to grip a wide variety of parts or workpieces during the CNC machining process. It was specially engineered to be a one-size-fits-all alternative to standard, single-application aluminum soft jaws.
"Single-application soft jaws require a significant amount of time, skill and raw material to construct, even before a single part is milled," said Tom Wood, Senior Director of Growth Initiatives at Norgren. "We saw an opportunity to solve several machining problems with just one tool, and so we designed the Adaptix™ Soft Jaw to grip nearly any part with comparable repeatability and clamping force as single-application soft jaws. This singular innovation in the CNC machining workflow can have a huge impact on several pain points in the industry."
The Adaptix™ Soft Jaw's adjustable fingers and interchangeable tips are made out of a variety of different materials to match the milling needs of a particular part. The fingers easily mold into place to conform to the shape of the target part and then are locked in place.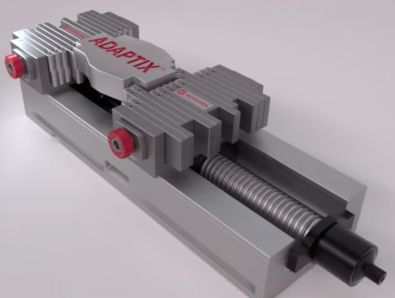 This configuration process takes minutes, instead of hours, on average, with traditional soft jaws. The soft jaw fits directly onto a vise and is currently compatible with Kurt and Schunk brand vises, with other vise compatibility planned in the near future.
"The COVID-19 pandemic and the pressure it placed on supply chains, hiring needs, and skills training only exacerbated the existing needs of the machining industry," said Wood. "Adaptix™ and, by extension, Norgren Workholding were created by Norgren to leverage our commitment to breakthrough engineering to make manufacturing more streamlined and accessible, and to solve several industry bottlenecks. So, we are thrilled to have collaborated with industry experts to create a first-of-its-kind soft jaw for the next generation of machinists."
The Adaptix™ Soft Jaw currently has limited availability.
Want more information? Click below.