Redesigned Chuck Reduces Cycle Time and Lowers Maintenance Cost for Your Lathe
Schunk's ROTA THW3 chuck with quick-change jaws has been completely redesigned to fit into today's modern machine tool technology.
Today's machines offer multiple features for today's manufacturing. For example, quick change tooling, large tool storage, multi spindles, and modular machine controls, to name a few. This technology creates a better experience for the customer by allowing for faster throughput, flexibility, and accuracy.
The latest technology in the THW3 enhances these benefits and offers developments that result in permanently high-process reliability, constant clamping forces and long maintenance intervals. These new engineering technologies in the completely new design include: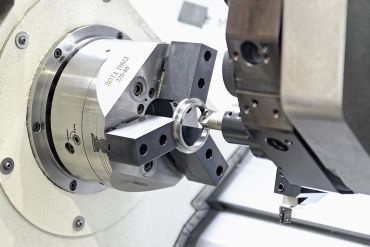 ShieldLok
With ShieldLok, nothing gets in and nothing goes out. Fully sealed, this patented design results in lower lubricant consumption that reduces grease cost, eliminates coolant contamination, and reduces chuck maintenance costs. Less maintenance means less machine downtime and maintenance cost.
EcoForm
The THW3 has a lower profile for less tool interference. Material has been removed from the chuck, which results in a lightened load without impeding integrity. Due to the lighter weight of the THW3, quicker acceleration and deceleration speeds equate to faster cycle times.
PowerGlide
The double-guided piston of the THW3 is more robust and stronger, holding higher tolerance, resulting in the best repeat accuracy for jaw change and part changes in the industry, according to the company.
VersaFlex
VersaFlex quick jaw change technology is ideal for small to mid-size batch production.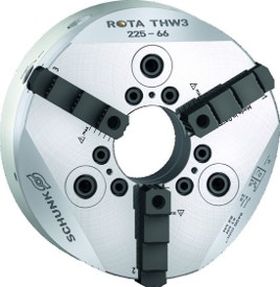 The ability to change chuck jaws in minutes with no re-boring of the chuck jaws ensures maximum versatility and flexibility enhancing machine tool technologies. Minimizing the set-up time needed with most conventional chucks, the return on investment and continued payback is easy.
Quickfinder for Chuck Jaws
Searching for matching chuck jaws for the SCHUNK ROTA THW3 chuck is easy with the jaw quickfinder. It takes just four clicks to get to chuck manufacturer, chuck type, chuck size and product details. The user receives a list of all matching chuck jaws from over 1,200 jaw types of the world's largest standard chuck jaw program from SCHUNK. The matching chuck jaws can be directly selected within the quickfinder.
Want more information? Click below.