Sunnen Lease Program Makes it Easy to Get Renowned Gages in Your Shop
Sunnen's PG-700/800 Series Bore Gages are ideal for fast, simple, economical process control in lean manufacturing environments, combining accuracy with a shop-hardened, all-mechanical design. And Sunnen's Gage Leasing Program allows shops of all sizes and production runs to have precision in-line measurement for parts that are honed, ground, bored, reamed or drilled.
The lease program includes maintenance and provides replacement gages, if needed. The popular PG-400 and PG-500 setting fixtures can also be leased to complement the PG gages. The lease renews each year and if the gage is no longer needed at the shop, it is simply returned to Sunnen.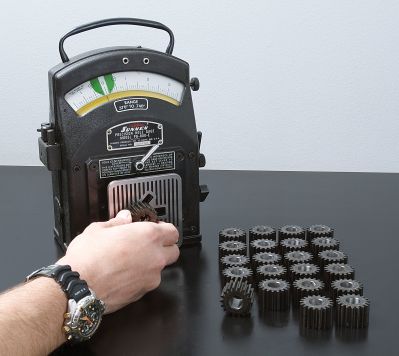 If a gage needs to be repaired during the lease, it is quickly swapped out for another unit. This is an easy, economical way for job shops to get in-line precision part inspection, increasing shop capabilities and opening new avenues of business.
The PG-Series gages bring reliable ID gaging to the manufacturing floor with no need for electrical or air connections, making them immune to fluctuations in line voltage or air pressure. A single PG gage can measure a wide range of part diameters, offering greater versatility at a lower cost than dedicated devices, such as air gages.
Compact and easily portable, the gages can be mounted right at machining stations. Unique gage setting fixtures enable simple two-minute setup, while eliminating the need and expense for plug gages, jo blocks, master rings or micrometers. The PG Bore Gage removes complexity, skill and "feel" from the measurement process, allowing machine operators to precisely confirm part size with a visually intuitive analog scale.
PG-Series Bore Gages can be used to examine the entire bore for diameter, taper, barrel, bell mouth, out-of-round and lobing. A sliding faceplate with adjustable stops permits end-to-end examination of bores. Stops can be set to allow examination of a particular section of the bore, with accuracy right up to the edge of ports, lands and ends.
Want more information? Click below.