Precision Workholding Features Latest Innovations: Faster Clamping, Better Access, Added Security
Jergens Inc. will display and demonstrate several new innovations for precision workholding next week at Westec.
New products include Modular Dovetail Vises, Hydraulic Vises, Pyramid Risers, and an expanded range of Toggle Clamps.
New Fixture Pro® modular dovetail vises add quick-change capability, making it ideal for parts with multiple operations and larger metal removal.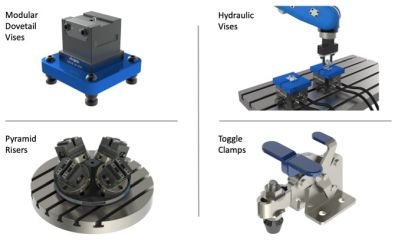 Two of the new vises are engineered to use with Jergens Quick-Loc™ pallet system and include industry standard patterns 52mm and 96mm. With a single drive screw, Quick-Loc™ provides fast and repeatable fixture changes for small tooling platforms. A square aluminum adapter base provides the connection to either of the two patterns. A third new vise uses a Quick Locating System (QLS) mount, for column-mounting possibilities, and a corresponding round adapter base for this type of workholding.
New 130mm double-acting hydraulic vise with high holding forces offers quick clamping and repeatability for improved speed and part tolerance. The new vise comes standard with multiple mounting patterns, different jaw options and easy access to plumbing and maintenance ports.
Jergens' 130mm hydraulic vise offers users the ability to position the jaws just outside of the dimension of the workpiece to minimize travel when clamping. This, in combination with the speed of hydraulic workholding, reduces clamping and unclamping operations to about one second.
Three- and four-sided pyramid risers permit multi part load and provide greater access for five axis machining applications. Part of the Fixture-Pro® line of quick-change modular workholding solutions, Jergens pyramids feature a 30-degree mounting surface to ensure maximum clearance for spindle and cutting tool paths resulting in more machining per setup.
True-Lok™ toggle clamps now include an additional locking mechanism for added security over a range of applications. Four types of clamps are available with the locking mechanism including Vertical Handle, Horizontal Handle, Pull (Latch) Style and Push (Straight Line) Style toggle clamps.
The added feature ensures that the toggle clamp will remain in the closed / hold down position for maximum security in workholding applications. Additionally, it also ensures that the clamps remain in the unclamped / open position to facilitate part change and operator convenience.
Want more information? Click below.