Cincinnati Inc. Unveils Compact and Cost-Effective Fiber Laser
Cincinnati Incorporated (CI), an American-owned and American-built machine tool manufacturer, recently introduced the CLi, a high-quality fiber laser with a compact footprint and compact price.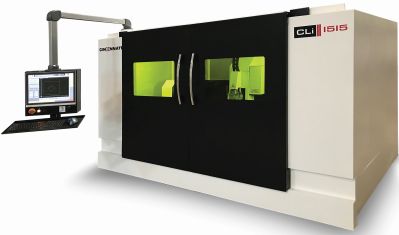 According to the company, the machine ensures users no longer need to count on contract manufacturing partners and mysterious lead times if they need laser cutting done. The lowercase i in CLi stands for "introductory," meaning it's an ideal starting laser that has all the functions necessary for shops that want to make parts rather than outsource.
"If cost-effectiveness is the goal, the recommendation used to be that you should pick up a used CO2 laser," said Troy Wilson, CNC Table Products Product Manager. "But with the CLi, you can get a new fiber laser for the price of a used CO2. Capabilities and reliability are a whole lot higher."
The CLi packs user friendliness and easy operability thanks to its HMI control and dual screen Windows-based interface. The 5' x 5' table is packed into an economical 10' x 11' footprint, meaning it can fit just about anywhere on a shop floor.
"The CLi lets OEMs that don't need a lot of sheet metal control their own destinies," Wilson said. "You get your own 5' x 5' that builds parts when you need them so you don't have to wait weeks or months for those same parts."
Want more information? Click below.
Copyright © 2022 by Nelson Publishing, Inc. All rights reserved. Reproduction Prohibited.
View our terms of use and
privacy policy