Walter's New Vibration Dampening Boring Bars Excel at Length/Diameter Ratios Up to 10xD
Walter has expanded its Accure∙tec anti-vibration boring bar line with the addition of the A3001 boring bar in combination with A2201 intermediate offset adaptor for larger diameter bores.
The standard A2201 is an offset adaptor for reduced radial forces, greater stability and provides more space between the boring bar and the bore wall for improved chip removal with very deep bores.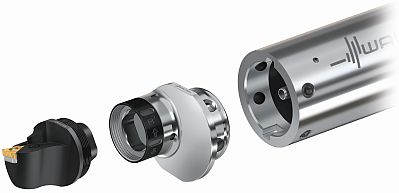 With the A3001 and the A2201, Walter has increased boring bar diameters to 2.5-4-in. and 60-100 mm. Unlike conventional steel or solid carbide boring bars that are often ineffective at length/diameter ratios beyond 6 x Dc, the Accure∙tec A3001, with its patented vibration dampening system, excels at length/diameter ratios beyond 6 x D up to 10 x D -- well past the point where conventional steel or solid carbide boring bars often prove less efficient.
Of prime importance is the fact that users of the Accure∙tec A3001 or A3000 boring bars will not have to worry about time-consuming "fine tuning" of the dampening function, as its patented anti-vibration feature is preset at the factory, so the tool is ready for quick application. The new tool is available with both negative and positive inserts.
With the A3001, Walter offers Capto C6, C8, and HSK-T 100 connections, and the compact, robust QuadFit precision (±0.002 mm) quick-change exchangeable heads that decrease downtime and boost versatility.
Together with the A2201's larger offset dimensions, the internal coolant delivery of the A3001 boring bar ensures optimum chip removal, adding to its superior surface finishes. It provides for fast and productive counterboring and internal profiling of parts in industries such as aerospace, oil and gas, and general metalworking.
Want more information? Click below.
Copyright © 2022 by Nelson Publishing, Inc. All rights reserved. Reproduction Prohibited.
View our terms of use and
privacy policy