Cincinnati's All-New Fiber Laser -- Lights Out Solution for High Volume Shops
Cincinnati Incorporated (CI), an American-owned and American-built machine tool manufacturer since the 19th century, has debuted the CLX, a new fiber laser machine that was built from the ground up.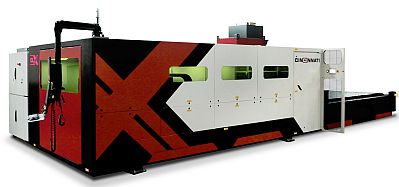 The machine was designed with an overarching question in mind: does this improve functionality in a lights out environment? With that end goal, CI's best senior engineers and brightest young employees came together to build the machine from a clean whiteboard.
"That was absolutely intentional," said Troy Wilson, CNC Table Products Product Manager. "We left the younger guys alone and let them free think. Because they're new to the company, they didn't have any reason to dwell on what was done in the past."
The result is an automation-ready, 3m x 1.5m and 4m x 2m dual pallet powerhouse that is just as tough as its fiber laser predecessors -- with half of the total frame weight of previous iterations. The CLX also has improved intelligence that allows it to take care of itself, keep things moving and keep cutting material.
The machine also includes an intuitive and powerful control, dual 22-inch touchscreen monitors and four interior cameras with different aspect ratios.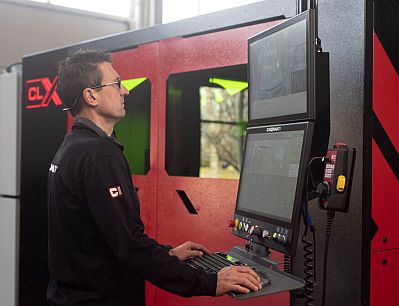 CI partners also chipped in with difference making features. nLight produced the CLX light source, a 15 kW Corona laser. The company added predictive technology as well, allowing users to easily maintain rather than repair. Beckhoff, experts in automation technology, added IoT integration, remote communication with the CLX and useful software help tools. And Laser Mechanisms' software package lets operators track wha''s going on with the head in real time.
"Improving functionality in a lights out environment was always the goal," Wilson said. "You can tell, because every single feature in the CLX supports automation in some way. With this machine, you'll make parts faster and more reliably than you ever have before."
Want more information? Click below.