New Entry-Level Laser Machine Can Engrave Any Object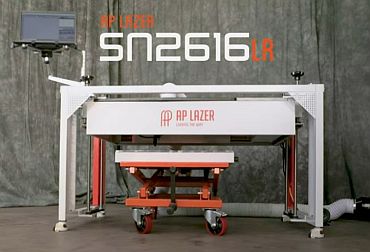 AP Lazer® introduces a new entry-level laser machine, the AP Lazer SN2616LR, featuring a low rider carriage cart, allowing the machine to effortlessly move from its standard position to the floor with a simple press of a button. The new model can engrave any object without size and weight limitations.
The AP Lazer SN2616LR is armed with 60-watt CO2 laser power and a 26-inch by 16-inch cutting and engraving area -- ideal for a small shop or hobbyist.
While the customization market continues to grow in popularity, the SN2616LR provides the business owner with an entrée to a less competitive part of that market -- large object customization, which includes floor engraving. The new laser machine provides entrepreneurs with the ability to expand in the rapidly accelerating and profitable emotional marketplace.
With a patented open architecture and a low rider carriage cart which moves the laser to any height, SN2616LR can easily engrave furniture and home décor; floors and pavements; and doors and windows.
Want more information? Click below.
Copyright © 2022 by Nelson Publishing, Inc. All rights reserved. Reproduction Prohibited.
View our terms of use and
privacy policy