Inspect More Parts per Shift with New, Versatile Spacer Plates
Vision inspection machines have grown in popularity and in SIZE.
There are some large pieces of glass out there with very limited fixture options. Phillips Precision has added versatile Spacer-Plates to its Inspection Arsenal® Open-Sight™ vision line.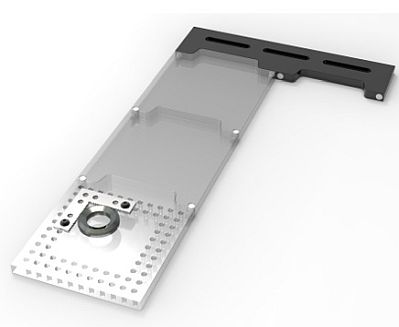 Insert as many 6x6" or 180x180mm spacers as you need to place your parts where you need them. The Open-Sight™ Spacer-Plates are made of 0.5" thick, clear polycarbonate and include a magnetic male and female Loc-N-Load™ tongue to lock plates together providing a highly repeatable location for both vision and tactile inspection -- no matter the size of your machine stage.
Not only are Open-Sight™ Spacer-Plates ideal for inspecting parts closer to the center of a large glass stage, you can also modify them for your own needs. Many inspectors use tape, putty and even hot glue to hold parts directly on the glass; only to take longer, limit their work holding options and eventually damage the expensive glass surface.
Instead, take advantage of the protection, repeatability, and simplicity of quick swap polycarbonate Open-Sight™ fixture plates and deliver perfect parts faster. Choose from a variety of Open-Sight™ plate sizes and work holding with ¼-20 or M6 threaded, even preconfigured bundled systems are available to help create the perfect part setup.
Benefits of going modular and quick-swap:
Enjoy a rapid return on investment
Inspect more parts per shift
Create multiple quick-swap setups per CMM
Move fixtures from one machine to another
Increase the number of employees who inspect
Adapt and reuse existing fixtures effortlessly
Access granite and glass surfaces easily
Use CMM palletization features
Work toward lights-out inspections
Use as dedicated tooling -- add it to your job box
Ships immediately, as product is ready-made
[b]Inspection Arsenal® complements other fixturing you may have and the value makes converting from other techniques very cost effective. Plates with air-glide feature are made to order. Standard Loc-N-Load™ product is ready-made and the company has a same-day shipping policy so an order today can be improving efficiency by tomorrow.
Want more information? Click below.
Copyright © 2022 by Nelson Publishing, Inc. All rights reserved. Reproduction Prohibited.
View our terms of use and
privacy policy