Form Your Own Inserts

Friction drilling by Formdrill USA is an easy and cost-effective application to join thin-walled materials and avoid costly weld nuts or inserts.
Historical answers have been weld nuts or threaded inserts, but these techniques have many drawbacks such as costs in time and expense, more production steps, adding external elements, and overall quality.
The Formdrill solution is an easy process which uses proven technology:
First a bushing is created out of the parent material with a Formdrill tool. This bushing increases the area available for tapping. Second, a Formtap forms strong threads in this bushing without any cutting.

VIDEO: Formdrill Animation
No special machines are required to use the Formdrill system, a standard drill press is sufficient. CNC-centers, milling machines, pneumatic or hydraulic drill units are also suited.
Formdrill USA's tools work with standard equipment like drill presses, milling machines or CNCs. This process is usable in most malleable materials such as mild and stainless steel, aluminum, copper, brass and other high strength alloys.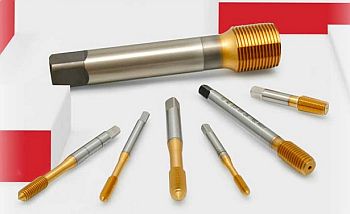 Typical applications include: threaded connections, bearing sleeves, sealing surfaces, pivot points and brazing or soldering joints.
Although this may look like new science, it is a proven technology that has been around for over 40 years and is used throughout the automotive, HVAC and other manufacturing industries.
Want more information? Click below.