MagSlide® a Unique Conveyor for Shops -- Works Without Any "Stinkin'" Belts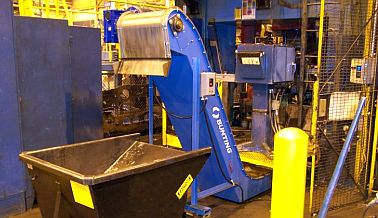 While it may look like a piece of playground equipment, Bunting's MagSlide® Conveyor is far from kids' play. This robust unit is ideal for material working and fabricating shops where machinists play. Belts? They don't need no stinkin' belts!
With apologies to the classic 1948 film, "The Treasure of the Sierra Madre," in a metalworking environment, metal chips and other scraps may get wedged on traditional conveyor belts and ultimately cause damage. This could be costly both in investment and lost production time.
The MagSlide® is the finest solution.
Magnets inside the stainless-steel conveyor latch on to ferrous material and move it where it is directed to go. No slipping and sliding here because of the high-energy ceramic or powerful rare earth magnets inside.
The belt is entirely enclosed, designed to keep small, pesky material out. There are even submergible housings available for practically any type of hot or cold liquid. Because no machine shop is identical Bunting's MagSlide® Conveyors can be configured for practically any purpose in a metalworking shop.
Horizontal conveyors are typically used to bring scrap out from under a large press. Material is then transferred to an incline conveyor leading to a dumpster. There is a nose-over unit designed for extending over scrap dumpsters if needed.
Many models can be designed for mobile use and easily wheeled around a shop wherever it is needed. The width of the slider bed on heavy-duty models come in 12", 15", 18", 24", 30", and 36". On medium-duty conveyors, the width is 10", 12", 15", and 18".
Bunting's MagSlide® Conveyors are on display at IMTS 2022.
Want more information? Click below.