Electronic Bore Gage Brings Reliable, Flexible ID Gaging to the Shop Floor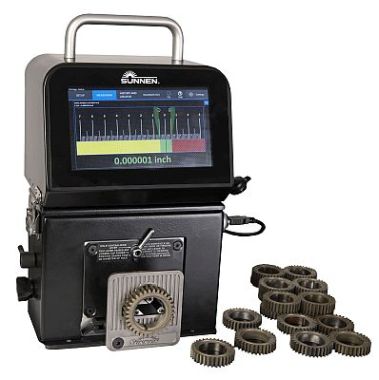 The new PGE-6000 Electronic Bore Gage from Sunnen Products Company allows precise control of final bore size and quality of purchased or semi-finished parts, with an instant digital or numerical readout for 100 percent inspection.
The electronically amplified comparative bore gage is ideal for quick, simple, economical process control in almost any manufacturing environment, combining lab-precise accuracy with a robust design built for everyday shop use.
An easy-to-follow setup menu handles all pertinent information required for fast, easy part inspection. An onboard computer can store serialized part measurement data for use in Statistical Process Control (SPC) analysis. Data is downloaded directly into a PC via a cable or USB drive, which also is used for software updates.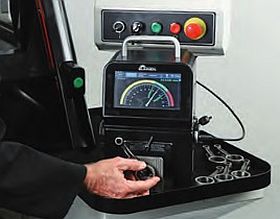 A viable alternative to air gaging in many instances, the PGE-6000 gages bring reliable, flexible ID gaging to the manufacturing floor with no need for probes or master rings. A single gage can measure a wide range of part sizes, offering greater versatility at a lower cost than a comparable air gaging system. The standard unit handles bore diameters from 0.370 to 1.50 in (9.40 to 38.10 mm) utilizing adjustable gaging fingers on both sides of the gage (the proven PG-800 gaging system).
Installing the optional gage finger extensions increases the bore diameter range to 1.50 to 3.00 in (38.10 to 76.20 mm) to accommodate even larger parts. The upper control/display unit is easily rotated to utilize either side of the mechanical measuring system.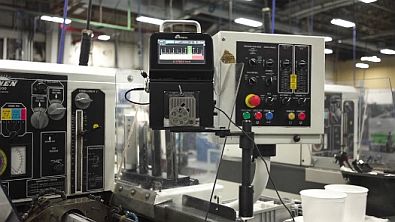 The PGE-6000 Bore Gage removes complexity, skill and "feel" from the measurement process, and allows machine operators to precisely confirm part size with confidence after only brief training.
A large 7-in diagonal (178 mm) color touch screen, with easy-to-use setup and measurement displays, allows the operator to tailor the gage to the application. Compact and easily portable, the gage can be mounted right at a machining station or in a QC or lab setting.
PGE-6000 Bore Gages can be used to examine the entire bore length for diameter, taper, barrel, bell mouth, out-of-round and lobing, and it is accurate right up to the edge of ports, lands or the ends of blind bores. Standard internal functions include the average, median, standard deviation, minimum, and maximum of a series of measurements.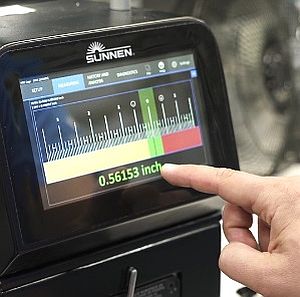 PGE-6000 Bore Gage combines a proven mechanical design with modern electronics to "lock in" accuracy, performance and reliability. An exclusive system of floating reeds locks the gage fingers at the desired diameter size, protecting against drift or lag. Accuracy is not affected by temperature, moisture, air pressure, or vibration. The floating reed system eliminates friction and wear to maintain repeatability. An optional foot pedal is available to allow hands free data entry.
Want more information? Click below.