New Vertical Lathe Cuts Cycle Time in Half for Difficult-to-Cut Materials
Okuma has announced a new addition to its vertical lathe product line -- the VT1000EX.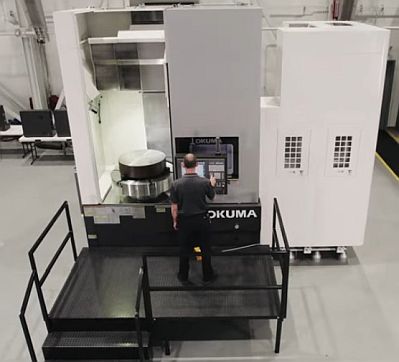 The VT1000EX provides new levels of productivity due to its highly rigid mechanical configuration, extreme thrust, and torque. This large vertical lathe is ideal for industries looking to dramatically reduce cycle time for difficult-to-cut materials.
The VT1000EX will make its Western Hemisphere debut in Okuma's booth at IMTS.
Highly Rigid Machine Construction
The VT1000EX weighs in at an impressive 41,800 pounds and features a highly rigid construction and structural reinforcement, all of which enables it to execute stable operations for long operating periods.
This vertical lathe includes wide guideway spacing, rigid and precise ball screws for both the X and Z axes, and a heavily cross- ribbed casting, which provides ultimate stability during ultra-heavy cutting of large workpieces.
Impressive Spindle with High-Output and High-Torque
The VT1000EX spindle is extraordinarily powerful and capable of a maximum power output of 55 kW, maximum torque of 5,310 Nm, and thrust of 30 kN on the X and Z axes. This power and torque make heavy-duty cutting for difficult-to-cut materials possible and can even reduce cycle time by up to 51%.
Cutting Capability
The VT1000EX excels at machining difficult-to-cut materials, even those that have high strength and superior heat and corrosion resistance properties such as titanium, Inconel®, and stainless steel.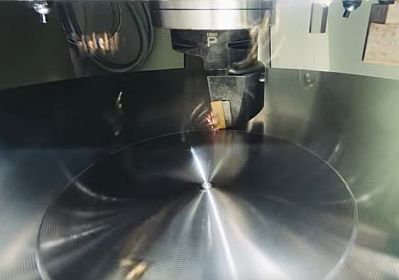 The VT1000EX also comes standard with a 36-tool magazine for continuous, long-run operation. Tool life is extended by a high- pressure coolant system, and chips are quickly removed with an enlarged chip evacuation system.
Embedded Sustainable Properties
The VT1000EX was designed to minimize CO 2 emissions by reducing power consumption through decreased machining cycle times, shorter Automatic Tool Change (ATC) exchange times, and the inclusion of an energy- saving control system.
Want more information? Click below.