System Grip Vises Require Minimal Contact, Reducing Deformation of Part
FCS' Self Centering Vises require no preliminary machining of the rough workpiece.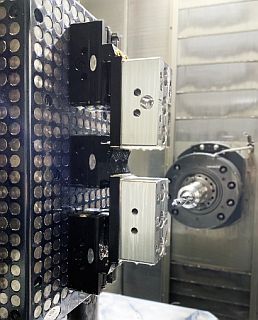 Minimal compact gripping mechanism starts at 2.5mm. A higher 5mm version is also available to hold the part. The forces generated to clamp the work piece are divided between two axis lines, resulting in minimal deformation of the part.
The gripping jaws come in a variety of sizes and features with two interchangeable independent inserts. The different insert types can be selected for rough non-finished surface to a finished surface application.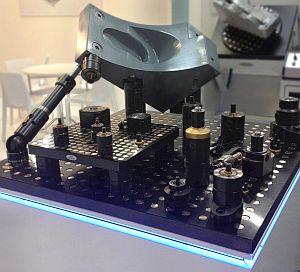 The Grip Vises are also available in Mono-sliding and a Double Fix version. This set up provides for the maximum adaptability to the dimension and shape of the workpiece.
The vises are easily positioned on the FCS M16 50mm grid system, M12 25mm grid system, smaller pallet selections or raised on FCS' body systems. Work pieces are easily clamped and centered within a position accuracy of ± .02mm.
Want more information? Click below.
Copyright © 2022 by Nelson Publishing, Inc. All rights reserved. Reproduction Prohibited.
View our terms of use and
privacy policy