Game Changer: Desktop Metal's All-New Digital Sheet Metal Forming Technology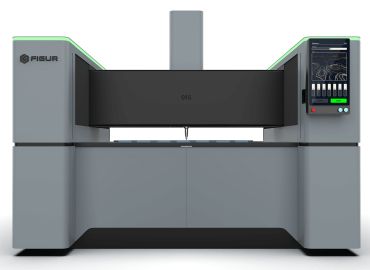 Desktop Metal, Inc. has launched the Figur G15, the first commercial platform of its kind to shape standard sheet metal on demand directly from a digital design file using all-new, patent-pending Digital Sheet Forming (DSF) technology -- no stamping tools, molds, dies, or presses required.
While digital cutting tools are commonly used today and have delivered many benefits to the $300 billion sheet metal forming and fabrication industry, no turnkey digital sheet forming solutions have been widely commercialized. Nearly all solutions for rapid production of sheet metal parts require custom forming tools, molds, or dies, which typically have long lead times and are expensive to produce.
Figur's breakthrough DSF technology maintains high precision with a flexible, incremental forming approach through a proprietary build box design that reduces force distribution across the sheet during the build. This unique solution eliminates high startup costs and long-lead time associated with custom tools, molds, and dies to unlock the benefits of digitization for sheet metal manufacturers, improving their business agility and making sheet metal forming accessible to new applications across a range of volumes.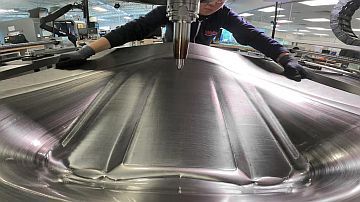 "After years of development, we're excited to show our Digital Sheet Forming technology to sheet metal fabricators," said Ric Fulop, Founder and CEO of Desktop Metal. "Sheet metal forming with the Figur G15 is accessible, flexible, and cost-effective, even at low volumes. Manufacturers in the automotive, aerospace, appliance and other industries can now produce a fully formed part in less than an hour without a major investment of time or money."
The Figur G15 features a software-driven ceramic toolhead on an XY gantry that progressively forms large metal sheets layer by layer with up to 2,000 lbs of force. With a forming area of 1450 x 1000 mm (57 x 39 in) in X and Y, the Figur G15 can process positive and negative forms up to 400 mm (16 in) in the vertical Z direction.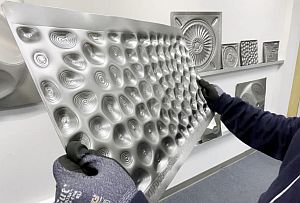 A wide variety of metals and sheet thicknesses can also be processed -- including steel up to 2.0 mm thick and aluminum up to 2.5 mm.
Want more information? Click below.