Tired of Burning Up Motors on Your Shop Vac?
The engineers at Exair offer several solutions if you're sick of burning through electric vacs at your shop. One shop found the perfect solution for them. It's simplified their operation and saved over 5 grand a year in the process.
In 2016, a mid-sized job shop approached the engineers at Exair looking for a solution to the problems they were having with their vacuum set up.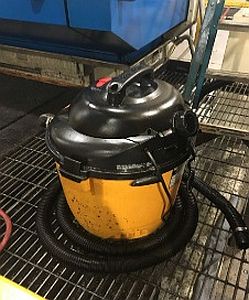 Electric vacuums were being used to remove cast iron chips and coolant from a machining process.
These vacuums continually broke down with clogs, coolant saturation in the electric motors, vacuum hose deterioration, etc. all of which caused down time and loss of production. They were being replaced at a rate of 1 every 3 months.
"I've been here for eleven years, and I bet, on average, I talk to a couple of users a month who are sick of burned up motors on shop vacs," said Russell Bowman, Exair Application Engineer.
The vacuums' small containers also needed to be emptied, on average, three times per shift, meaning the operator had to stop work for 10-15 minutes in order to manually empty it. The full containers could weigh up to 100 lbs, depending on the material and the amount of coolant saturation.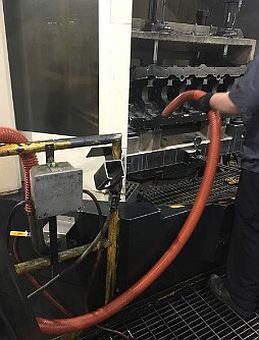 Exair engineers presented the Line Vac as a solution to both the expense of vacuum replacement, and the time and hassle of emptying the heavy containers.
"Most of the time, we're replacing shop vacs with our drum mounted compressed air operated Industrial Vacuums," added Bowman. "The specifics of this application (mainly the fact that they had a large waste receptacle they wanted to use, instead of a 30, 55, or 110 gallon drum) made it a shoe-in for our Line Vacs."
Initially, two electric vacuums were replaced with Exair's Model 6064 2" Stainless Steel Line Vac. Once installed, the operators never had to leave their workstations because the conveyance hoses were routed directly to the point of disposal, and the lifting of the heavy containers for dumping had been eliminated.
The Line Vac worked flawlessly for over nine months...in which time the shop would've had to replace three electric vacuums on each of the two machines. After seeing the results, the shop proceeded to buy nine more Line Vacs so they'd have one on each of their ten machines.
After replacing the electric vacuums, the ten workstations are no longer prone to failure in industrial applications and heavy lifting to discard chips and coolant is no longer required.
The Line Vacs have also been a huge success financially. Replacement electric vacuums cost the company $135.00 each. On ten machines, replacing a vacuum every three months, that's: $135.00/vacuum x 4 replacements/year x 10 machines = $5,400.00 in annual replacement cost.
Factoring in the price of the Line Vacs, the shop realized a savings of $1,470 in the first year alone and has continued to accrue annual savings of more than $5,000.
Want more information? Click below.