New Technology Enables Ohio Shop to Go Lights Out
Copen Machine, located in Kent, Ohio, is a high-end production shop which serves the military and other industries. Their products hold very tight tolerances and must meet high-quality standards. Like many job shops, Copen Machine was looking to increase productivity, specifically through lights out machining. The trick was finding the right equipment and tools to make that happen.
To start the process of investing in new technology, with the hope it would lead to increased productivity, the Copen Machine team decided to first turn to one of its own. Jason Englehaupt, the Productions Team Development Manager, has been in the industry for 25 years and worked with other shops to help build up their operations. When asked what the shop could do to become more efficient, he turned to something loyal and true.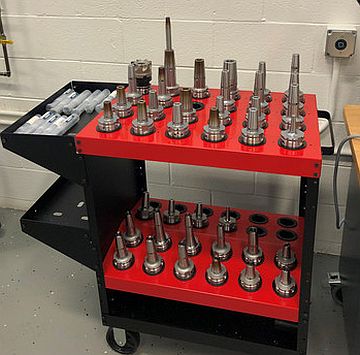 "I have been using HAIMER tooling for the past 15 years now," explains Jason. "So, I knew that HAIMER would be the prime candidate for this company."
After the decision on tooling, the team set up a meeting with Michael Truchan, Area Sales Manager at DMG Mori USA. During their meeting, they discussed their goals and objectives with Michael which led them to the purchase of a new DMG machine.
When asked what else they could do to better their business, Truchan solidified what Englehaupt already knew. "They were looking into transitioning their operators to day shifts only," states Michael. "The best way to do this was to invest in the partnership that DMG Mori and HAIMER can provide." With the communication between DMG Mori and HAIMER machines, lights out machining would be possible for Copen Machine.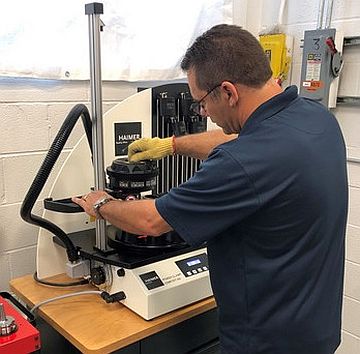 After the rest of the Copen Machine team learned about this technology, Regional Sales Manager for Haimer USA, Matt Frieden, helped with the acquisition of the HAIMER shrink fit and presetting systems, both of which Englehaupt cannot imagine not using now.
Not only were they able to quickly transition to lights out machining entirely after implementing the new technology, Englehaupt began was using the presetting machine for a variety of different processes. For example, he is able to set up other production jobs while the machine tool is running.
"When I am in production, I can't have down spindle time to do R&D or test something, so the presetter comes in really handy," Englehaupt explains. "I can preset all my tools for other jobs and not have to stop my machine to touch all these tools off."
With the Microset UNO Premium's repeatability of ± 2 µm, he can quickly load the tool and move on to the next job, without having to double check every tool change.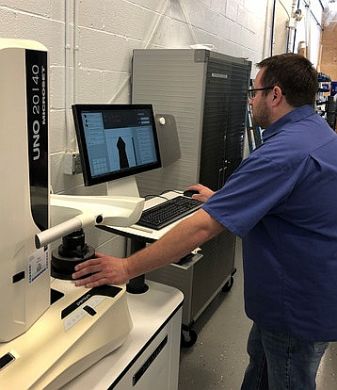 Inside the Microset UNO Premium, Englehaupt took the time to build sub-tool libraries for his production jobs in order to stay organized especially since a couple of the machines at Copen Machine holds up to 180 tools.
"Whatever it is, I have it fully described in my tool library, set up sheets and UNO Premium," Englehaupt explains. "It's simple, easy-to-use and integrates into our machine tools perfectly."
He uses the full internet capabilities to gather the gauge lengths of the tools from the Microset UNO Premium and send them directly to the machine tool. By doing this, all he has to do is hit cycle start and it preloads all the data for all the tool lengths of the tools saved in the Microset UNO Premium. "It saves me a tremendous amount of time when I have over 30 tools per job," Englehaupt describes. "It just saves all that time for me to concentrate on bringing another project into the production stage."
Due to the nature of the productions they run, Copen Machine has a lot of custom made cutting tools with very unique geometries, so Englehaupt uses the Microset UNO Premium to verify tangent points of radius-type cutters and to look at geometry and form of specialized form and port tools.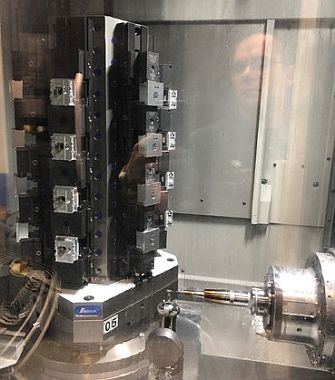 "I verify diameters, neck length and different things like step and port drills to check the form of the tool prior to running that into the part," Englehaupt adds. "I know that's not what the UNO Premium was designed for, but it helps me a lot and it is a really nice machine for the production-minded environment."
Not only do the dimensions need to be precise, but the surface finish on the part has to meet certain standards because Copen Machine serves the food and military industries. Most parts need to be anodized which means the work piece needs to be scratch and tool mark free.
This is where the HAIMER Power Clamp Comfort NG shrink fit machine and HAIMER shrink fit tool holders came into play. The HAIMER shrink fit chucks offer 360 degree gripping torque around the shank of the cutting tool which prevents chatter during the roughing or finishing operations.
"HAIMER, with the HSK-63 and the DMG Mori machines, gives me that capability to maintain the upmost surface finish," states Englehaupt. "A lot of my tooling is hanging out there, like eight or nine inches for gage length, and I am still able to maintain the surface finishes with the productions I am running."
HAIMER guarantees a runout accuracy of <3 µm at 3xd for Shrink Fit Chucks, Power Collet Chucks, High Precision Collet Chucks and HG Chucks. The uniform pressure on the cutting edges leads to, among other things, better dimensional accuracy, surface finish, smoothness and tool life.
Englehaupt is thankful Copen Machine invested in HAIMER technology and tool holders because they were able to maintain tight tolerances while maximizing productivity. "To be honest with you, I have used other tooling prior to HAIMER," he concludes. "When you compare others to HAIMER, you can't beat the price and consistency."
Want more information? Click below.