Four Generations and 100 Years in Metal Cutting
In a world where machine shops are struggling to stay open and maintain their business and when "going into dad's business" is not what it once was, Platinum Tooling is an exception to the rule. Located in Prospect Heights, Illinois, the company is set to reach an important milestone. This year, company President Preben Hansen and his family are celebrating 100 years working in metal cutting and four generations of Hansen men in the industry. How cool is that?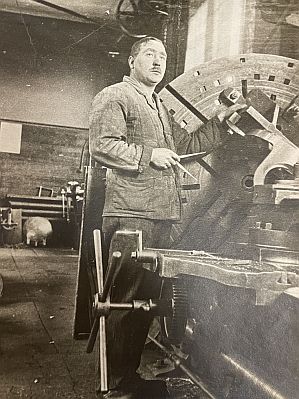 Preben Hansen's grandfather, Louis Eckart Hansen, in 1922
The story began with Preben's grandfather, Louis Eckart Hansen, who learned his trade in Copenhagen, Denmark in the early 1900s. Louis worked as a machinist in the Danish Navy's repair facility.
Preben's father, Svend Eckart Hansen, honed his skills under the guidance of Louis. In 1958, Svend emigrated with his family, including young Preben, to the U.S. Despite not knowing English, he found employment within days of arriving in Chicago, because of his skill as a tool maker. Svend began his career as a machinist and ended it in the 1990s as a master tool maker at Ramcel Precision Stamping and Manufacturing LLC in Northbrook, Illinois.
With manufacturing and tooling in his DNA, Preben worked in the machine shop of the former Fulton Machine Company in downtown Chicago, while attending the University of Illinois Chicago and pursuing a degree in engineering.
Following college, he worked in the shop at Oakley Industries building custom machinery. After several years in the shop, Preben moved to the front office and into an inside sales position. Later, at Jemco Tool & Die, he learned programming and set-up on their CNC lathes and machining centers which was his introduction to machine tools and their accessories.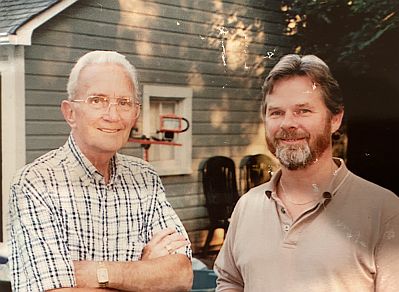 Preben with his dad, Svend Eckart Hansen
His next job was at HPI, now known as Pioneer Heartech Precision Inc., a distributor of tool holders and related products, in Elk Grove Village, Illinois. Preben started as an Outside Sales representative of tool holders and rotary tables, then became the company's Sales Manager. This was followed by work at Lyndex-Nikken, another machine tool accessory supplier in Mundelein, Illinois. Here, Preben was introduced to live tools and once again worked as Sales Manager.
In 2010, Preben started a joint venture with heimatec GmbH, becoming the President of Heimatec, Inc., a company specializing in live tools, angle heads and multi-spindle drill heads. In 2018, Heimatec, Inc. was purchased by Platinum Tooling Technologies, Inc. with headquarters located in Prospect Heights, Illinois. Preben is the COO and President at Platinum Tooling.
The company serves the auto, aero, medical, woodworking, composites and other industries, as well as an ever-increasing number of machine tool OEMs worldwide.
In total, Preben has over 30 years of experience in the machine tool accessory market and over 40 years in the manufacturing industry. Given his credentials, it's no surprise that Preben has established himself as a leading authority on these topics in the North American machine tool accessory market. He often hosts knowledge bars at trade shows to SRO crowds.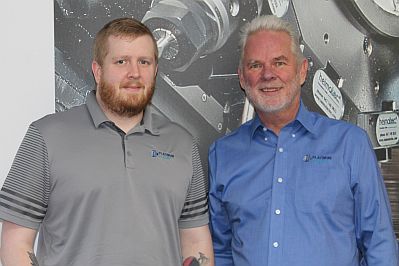 Preben Eckart Hansen and his son Luke James Hansen
In keeping with this family tradition, Preben's son, Luke Hansen, joined his dad's company in 2018 as a Technical Sales Specialist for several of the product lines sold by Platinum Tooling, including Tecnicrafts collets and guide bushings for Swiss machines.
After graduating from high school, Luke joined the army in search of his calling and received great training there. Upon his discharge, he decided to put into practice the motivational and goal orientation skills he had learned in the military. In his current position at Platinum Tooling, Luke continues to expand his knowledge of the machine tool accessory market as well as build valuable relationships with the North American sales and distribution network of the company.
Reflecting on 100 years as a family in the manufacturing industry, Preben Hansen says, "The machine tool industry has been and continues to be an extremely vital part of our country's continued success. My son Luke and I are proud to be 3rd and 4th generation professionals involved in this exciting industry."
Want more information? Click below.