The "Never-Ending" Skills Gap: What Exactly is It? How Do You Fix It?
CNC machine shop owners and managers have long pondered the same problem: where do I find skilled employees? You've seen the figures. You've seen the headlines. Year in, year out, the disparity between the needs of manufacturers and existing skills remains a constant. So, how will we finally fill that gap? The folks at Methods Machine Tools offer some solutions to the problem.
Finding and hiring capable staff is a chronic illness that the manufacturing industry can't seem to shake.
Like any other ailment, the first step to curing the skills gap plaguing the industry is identifying the problem.
Diagnosing the Disparity
The term itself, "skills gap," is a bit of a misnomer. A skills gap is a clear difference between what abilities companies require and what abilities prospective employees have. While a traditional skills gap is part of the problem, another issue is the large number of aging workers exiting the workforce and the lack of younger employees interested in the trade.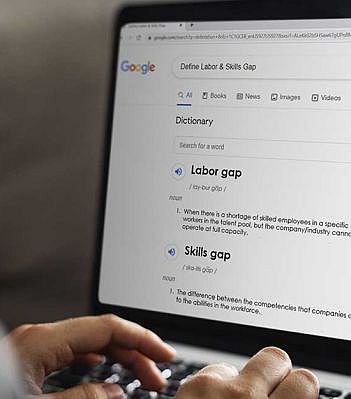 Attracting new people to the trade and teaching entry-level employees are two paths to bridging the skills gap.
"There is a skills gap, yes, but I think it's more of the body count we need to fill for the people that are retiring," said Ryan Bakinowski, a lab technician at the Manufacturing Center and Additive Manufacturing School at the Wentworth Institute of Technology (WIT). "We're having a huge exodus of people that know the trade, and nobody to backfill."
The numbers tell a similar story.
For more than 40 years, manufacturing employment has been trending downward. Jobs peaked at 19.6 million in 1979 and have since declined 35% to 12.8 million, according to a November 2020 U.S. Department of Labor Statistics report. Receding manufacturing employment was exacerbated by a rise in other jobs, such as professional, business, health, and education services.
In the 1980s, the rising tide of globalization began to siphon U.S. manufacturing jobs, souring the taste of machining jobs for generations, according to Jim Van Buskirk, Sr. Director of Application Engineering at Methods Machine Tools. Companies were able to source cheaper parts from across the globe, creating a race to the bottom.
"In their quest to build profits, large-scale corporations moved manufacturing operations to low-cost areas," he said. "The outsourcing that occurred decades ago had a tremendous cascading effect that's still hurting the industry, it gave people the impression machining isn't a good career path."
The machining world can't ignore the cause and effect between largescale outsourcing and the current labor gap, Van Buskirk added, and it's essential to learn the lessons from that era. While the machining industry and shop floor have changed significantly since the declines in the 1980s and 1990s, the public image of manufacturing is still stained.
Many of the machinists that did stay in the industry in the last 40 years are poised to leave soon. Baby boomers, formally the largest generation in the U.S. at about 73 million people, will be at least 65 years old by 2030, according to the U.S. Census Bureau.
Machining and manufacturing are facing a wave of departures at a particularly trying time. Deloitte's 2018 study estimates manufacturers will need to hire about 4.6 million workers by 2028; approximately 2.4 million of those positions may go unfilled.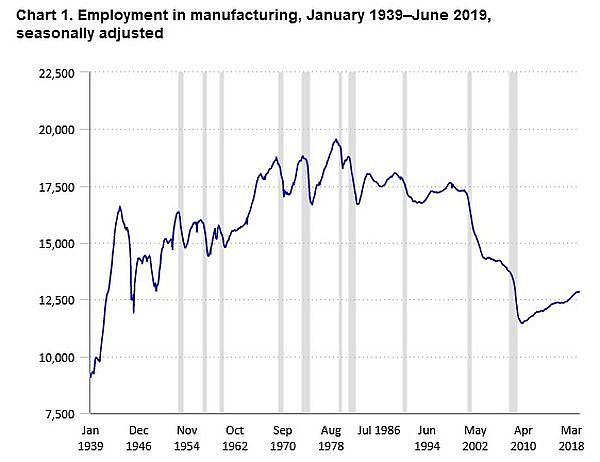 Seasonally Adjusted U.S. Manufacturing Employment, 1939-2019. Courtesy of the U.S. Bureau of Labor Statistics
"Especially in the last year with everything that's happened, there's definitely a shortage of folks joining the industry," said Dan Rogers, Director of the Southern Michigan Center for Science and Industry (SMCSI), a machining/manufacturing training center for youths and adults.
Not only is the talent pool shallow, Rogers said, but the generation of CNC machinists and programmers are also leaving valuable knowledge on the table.
According to Van Buskirk, that knowledge is the bridge connecting what someone learned in a classroom and how to apply it on the shop floor. Entry-level employees need hands-on experience with basic concepts such as machining rates, surface footage, trigonometry, and reading blueprints before they can tackle complex projects.
Newcomers also need to learn how a shop operates, figuring out how to meet a deadline, adapt to sudden changes in your machining environment, and how to produce high-quality parts consistently. Designers and programmers require that knowledge, too; people in those roles often overlook job changeover times and safe cutting operations when planning jobs.
"You have to be able to look at the material and quickly determine which cutting tools to use to get the feeds and speeds you want," he said.
The skills gap is partly attributable to the experts leaving the workforce. It takes years of on-the-job training for someone to acquire essential skills, and the needs of machine shops are constantly evolving.
Attracting new people to the trade and teaching entry-level employees are two paths to bridging the skills gap.
Reshaping Public Perception
A skilled craftsperson in any trade -- particularly an occupation as complex as a CNC machinist -- is not born; they are created. That's why Bakinowski, Rogers, and many others in the CNC industry are trying to change the layman's view of machine shops and manufacturing facilities.
"When people that aren't in the manufacturing industry think of a machine shop, they think of the dirtiest places," Guy Parenteau, Engineering Manager at Methods Machine Tools, said. "Anyplace you go, you'll see that's not the case."
For the uninitiated, phrases "manufacturing facility" and "machine shop" conjure up the image of lathes, mills, presses, oil, grease, jumpsuits, and backbreaking manual labor.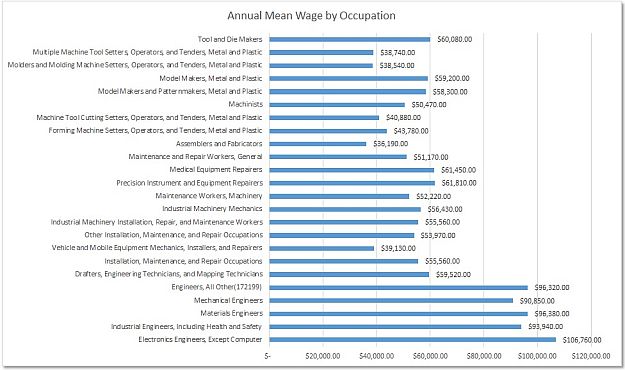 Annual wages in the manufacturing Industry by Occupation. Source: U.S. Bureau of Labor Statistics
Others recognize the inaccurate public opinion of a machine shop, too. A 2017 study backed by Deloitte and The Manufacturing Institute surveyed 1,000 Americans in 50 states found that less than 50% of respondents believe manufacturing jobs are "interesting, rewarding, clean, safe, stable and secure." However, about 80% of survey respondents view U.S. manufacturing as vital to economic prosperity, and 88% believe future manufacturing jobs will require high-tech skills.
Modern CNC machine shops are safe, state-of-the-art, debris-free environments that host a range of new technologies, including robots, automation cells, elaborate controls, and automatic tool and pallet changers. Machines sit on specialized concrete isolation pads to minimize vibrations and potential material deformations.
Advanced facilities, such as Methods' Precision Center in Acton, Mass., constantly monitor and adjust the temperature to prevent parts from thermal distortion. And the machines themselves are technological innovations that use complex programs, specialized tools, and highly engineered components to cut intricate tool paths while using in-process inspection metrology systems.
One of the main challenges on the public image front, Methods' Van Buskirk said, is portraying machinists as skilled craftsmen with high earning potential.
"It takes a lot of knowhow to turn a solid piece of billet into a high-tolerance part with elaborate shapes and a mirror-like surface finish," he said. "There's an immense amount personal satisfaction of making something tangible, a physical product that's used in the real world."
Depending on the location, the machine shop's end market, and other variables, the job often comes with a high salary, too.
According to the U.S. Bureau of Labor Statistics, the mean annual wage for CNC operators -- employees who set up, test/calibrate, and run machines, in addition to inspecting finished parts -- is $44,300. CNC programmers -- those who read blueprints, formulate machining processes and write programs earn $61,010. Those figures often come without the baggage of student debt. The machinists' skillset and experience are also critical variables, with CNC operators and programmers in the top 10% of each respective profession earning about $63,460 and $88,860 annually.
Assembling Interest
It's hard to place the lack of machining exposure at the feet of the public. There is no popular culture that promotes CNC machining as the technologically advanced, clean, precise industry it is today.
Actress Gillian Anderson's portrayal of a federal investigator on The X-Files helped inspire generations of young women to go into science, technology, engineering, and math (STEM) fields, according to a 2018 study.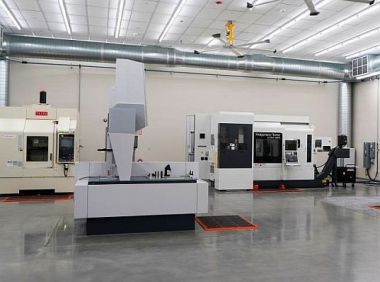 Methods Precision Center in Acton, MA. Cutting-edge machine tools sit on isolation pads inside a climate-controlled room to eliminate variables and guarantee accurate conditions.
One of the only movies to feature a machinist as a main character, The Machinist, is a psychological thriller that doesn't exactly portray machining as the safe, worthwhile profession it's become.
Generating interest in CNC machining is one of the first steps to bridging the workforce and skills gaps. Industry enthusiasts are using every available end-mill in their metaphorical tool changer to spark the curiosity of CNC in younger generations.
The Wentworth Institute of Technology is building pipelines to multiple potential labor pools.
One program taps youths in Roxbury, Mass., a historically underprivileged Boston neighborhood, and brings them on campus to teach introductory technical courses such as small engine repair and how to obtain accurate measurements. In coordination with an instructor and Girl Scout leader, another program brings Girl Scouts onto campus for tours and demonstrations, such as seeing how bowling pins are machined.
"They love being in there," Wentworth's Bakinowski said. "And hopefully, we'll recruit them in eight years when they enroll in college."
At Methods Machine Tools' Sudbury, Mass. headquarters, co-op students from Wentworth are assigned an engineer to shadow. Those students, Methods' engineering manager Parenteau said, learn every facet of the trade. Learning is not limited to one task or one area of expertise but spread across design, engineering, manufacturing, and metrology.
"They're going to work with that engineer on every aspect of the job, and in turn, be given tasks based off of that," Parenteau said. "What's great about doing that is you put them in real-world environments and give them real-world tasks."
Methods also hosts middle and high school students, STEM classes, trade school students, and a broad range of students to give them an inside look at high-end machinery and manufacturing.
"If anyone wants to come in a visit, I'll bring them in," Parenteau said. Before COVID-19, Parenteau and others showed a group of cub scouts how laser marking works.
At SMSCI in Michigan, Dan Rogers has also honed in on hands-on experiences.
The technical learning center has a portable, desktop version of a FANUC controller, a desktop version of a CNC machine simulator, and several FANUC RoboDrills at its shop. While the COVID-19 pandemic has complicated in-person learning, particularly those requiring hands-on education, SMSCI is experimenting with some alternatives. The center launched a mobile classroom in a trailer equipped with CNC machines, robots, and other technological innovations.
"It's all about trying to find the right way to market to students," Rogers said.
While CNC machining may be a tough sell for some educators and enthusiasts, people are interested. Wentworth's Bakinowski has a regular group of "shop rats" who are usually waiting outside the shop at 6 a.m., waiting for the doors to open.
"I think there's a renewed interest in working with your hands," added Tasker Smith, a Technical Instructor at the Massachusetts Institute of Technology. "It's just a matter of practically getting that into schools and exposed to it."
The challenge of getting CNC machines and controls into the hands of students is twofold, Smith said. Science, Technology, Engineering, and Math (STEM) instructors generally don't have enough CNC exposure or knowledge to pass it on to students. Second, students need to be exposed to these skills and machines in a technical, safe setting to prevent injury.
Widening the Target Audience
Educators not only have to get through to students but also parents and guidance counselors. They, too, need to see that someone can have a fulfilling, prosperous career as a skilled CNC machinist. Machinists and operators readily recalled some of the reasons they were interested in CNC machining -- problem-solving, programming, seeing the fruits of your labor as a physical component, and figuring out how to make more parts faster.
"We have a very hard time explaining to students what CNC is, and even a harder time explaining to parents what CNC machining is," said John Dodson, Vice President of Business Alliances & NASCAR at the Universal Technical Institute (UTI).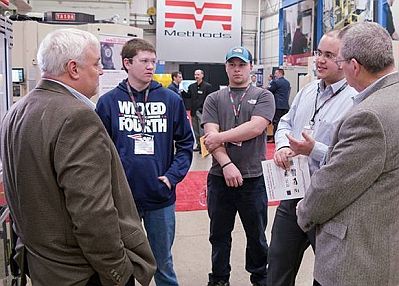 Students attend an industry convention.
Dodson, a former NASCAR pit crew member and metal fabricator, knows the CNC industry's job shortcomings intimately. For years, he's heard from others in the NASCAR world about the skills gap and the lack of skilled CNC machinists entering the workforce.
Recognizing the need for skilled craftsmen, Dodson helped establish UTI's campus in Mooresville, NC, in 2002. Later, Roush Yates Engines, a manufacturer of high-performance racing engines, approached UTI when the company needed more skilled machinists. In 2017, this partnership prompted UTI's CNC machinist training program at its NASCAR Technical Institute.
Four years on, UTI has made significant headway by pairing CNC machining with exciting, real-world applications such as NASCAR and Roush Yates Engines. About 250 students have graduated from the 36-week program, with about 86% of those graduates landing a job in their career path. And in some cases, Dodson said, a career can come before graduation.
"If you get into our program, and you're doing well, you may have a job even before you graduate," he said.
Prospective students and their parents tour the UTI campus in Mooresville, the nearby Roush Yates Engines facility, and a machine tool supplier. Getting a complete view of the CNC machining process, from the machinery and programs students use to seeing the finished products, gives potential students a better understanding of the career paths available.
Having an advanced manufacturing machine shop open its doors for all to see is a valuable component of generating interest, too. And, manufacturers have to do their part in raising awareness of the industry.
"If you want to get a workforce, you're going to have to invest in it," Dodson said. "And remember, these are entry level technicians, and you're still going to need to guide them once they become employed by you. But they're way more advanced than someone out of high school."
Dodson acknowledges hitting the pavement and educating the community about CNC machining is a difficult task, but it's a necessary one. He's worked with the local and state chambers of commerce, economic development corporations, and elected officials as a CNC machining advocate. If machining and manufacturing enthusiasts can convey that CNC machining can lead to more jobs, elected officials will take notice.
"Being connected to the community is nothing more than a root that goes into the ground for your company," Dodson said. "Every little bit matters. We have to fight for these jobs in this industry."
Filling the Gap
Carl Pasciuto is all too familiar with the fight for CNC jobs. The president of The Custom Group and co-owner of Custom Machine, a machine shop based in Woburn, Mass., had exhausted every possible route to find skilled labor. He was tired of wasting resources trying to find qualified candidates.
So, in 2008, the family-owned business launched a CNC operator pilot program aimed at basic education. In 2010, they became an accredited vocational school.
"Not just us, but a lot of people were having trouble finding people with the necessary skillsets," said Joanna Dowling, Director of the vocational school and Carl Pasicuto's sister. "We were spending a ridiculous amount of money with temporary agencies, and we weren't getting the results we wanted."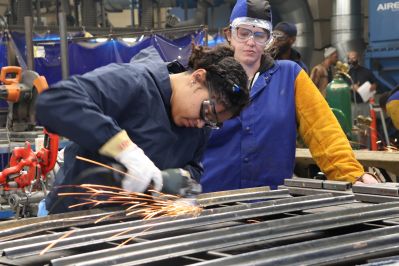 Identifying and training the next generation of machinists and programmers is a critical first step in addressing the skills gap.
CMT specializes in upskilling -- giving those already in the CNC industry more skills and abilities through short burst training, customized classes, and long-form courses. While the labor gap is an issue, Dowling said, the skills gap presents a more immediate problem.
"What we're finding is that the people that are coming into our traditional training programs are really green," she said. While the industry needs as many people as it can get, Dowling said, and training/vocational schools produce entry-level employees, those new workers still need time on the shop floor with experienced professionals.
Identifying and training the next generation of machinists and programmers is a critical first step in addressing the skills gap. As new employees enter the workforce, it will give the current generation more time to gain new skills. The need to upskill is growing as machine shops become more advanced and implement more technology.
Continuing education and training is an essential part of bridging the skills gap. Allowing experienced CNC operators to learn new skills is one of the most effective ways to bridge the skills gap.
"That's where the skills gap is, making that jump from your setup person to the next programmer," Dowling said.
There's no way to circumvent the fact that middle-skill employees need more time on the shop floor or education to meet the growing needs of machine shops. Dowling said it would be akin to a medical student skipping a residency program and going straight into the operating room.
Depending on the job requirements and skills an employee needs, bringing a newcomer up to speed could take around 380 hours, while upskilling an employee with a few years of experience takes about 80 hours, Dowling said. If shop owners and managers invest in their employees, everyone wins. Machine shops get a skilled employee in a shorter window than training someone new to CNC machining, and the machinist walks away with valuable, tangible knowledge.
Answers Through Automation
Automation can allow machinists to apply that knowledge better. Solutions such as automated cells, automatic pallet changers (APCs), and automatic tool changers (ATCs) can free up machinists to work on other tasks to improve spindle utilization.
According to Zachary Spencer, Automation Manager, Robotics at Methods Machine Tools, that aspect of automation alone brings some benefits.
Automation systems alleviate CNC machine shops by increasing cycle times, throughput, and allowing skilled machinists to tackle more complex tasks.
"It's tedious work, its repetitive, and people don't really like to do it," he said. By eliminating monotonous tasks such as loading, unloading, and changing parts and components, employees are more engaged on the shop floor.
Parenteau added that robots and automation are an inherently exciting way to connect with younger generations. Robotics leagues are increasingly popular in high schools across the country, offering an engaging entry point into automation. Both Parenteau and the Wentworth instructor Ryan Bakinowski identified the movie Iron Man as an electrifying example of automation and robotics.
"That's your ticket in the door, people know about robots," Parenteau said. "They all want to learn about robots, then realize there's so much more out there. That's the beacon, then you can show them all of the other stuff in your shop."
Manufacturers Wanted
There is no one-size-fits-all answer to addressing the skills gap, but there are solutions that work. Advanced automation systems can increase throughput while allowing skilled machinists to handle complex tasks. To address the immediate need for talent, machine shop owners and managers can invest in their employees. Upskilling the existing workforce will spread the wealth of knowledge around.
"By and large, manufacturers don't have training cultures, and they need to develop that," said Brian Norris, Director of the Northeast Advanced Manufacturing Consortium.
Since the consortium was founded about eight years ago, Norris said, it has trained more than 800 people and boasts an employment rate of more than 80%. Like UTI's Dodson in North Carolina, Norris has found results in working with local agencies and officials to make inroads that lead to grants, workshops, and jobs.
To address the long-term issue of the labor shortage, the industry has to reshape its image. That involves educating students, teachers, parents, guidance counselors -- and anyone else who will listen -- about the rewarding aspects of CNC machining. Informing the soon-to-be-employed, underemployed, or unemployed the wide range of options in the industry is the perfect starting point, Norris said.
Want more information? Click below.
Center for Manufacturing Technology